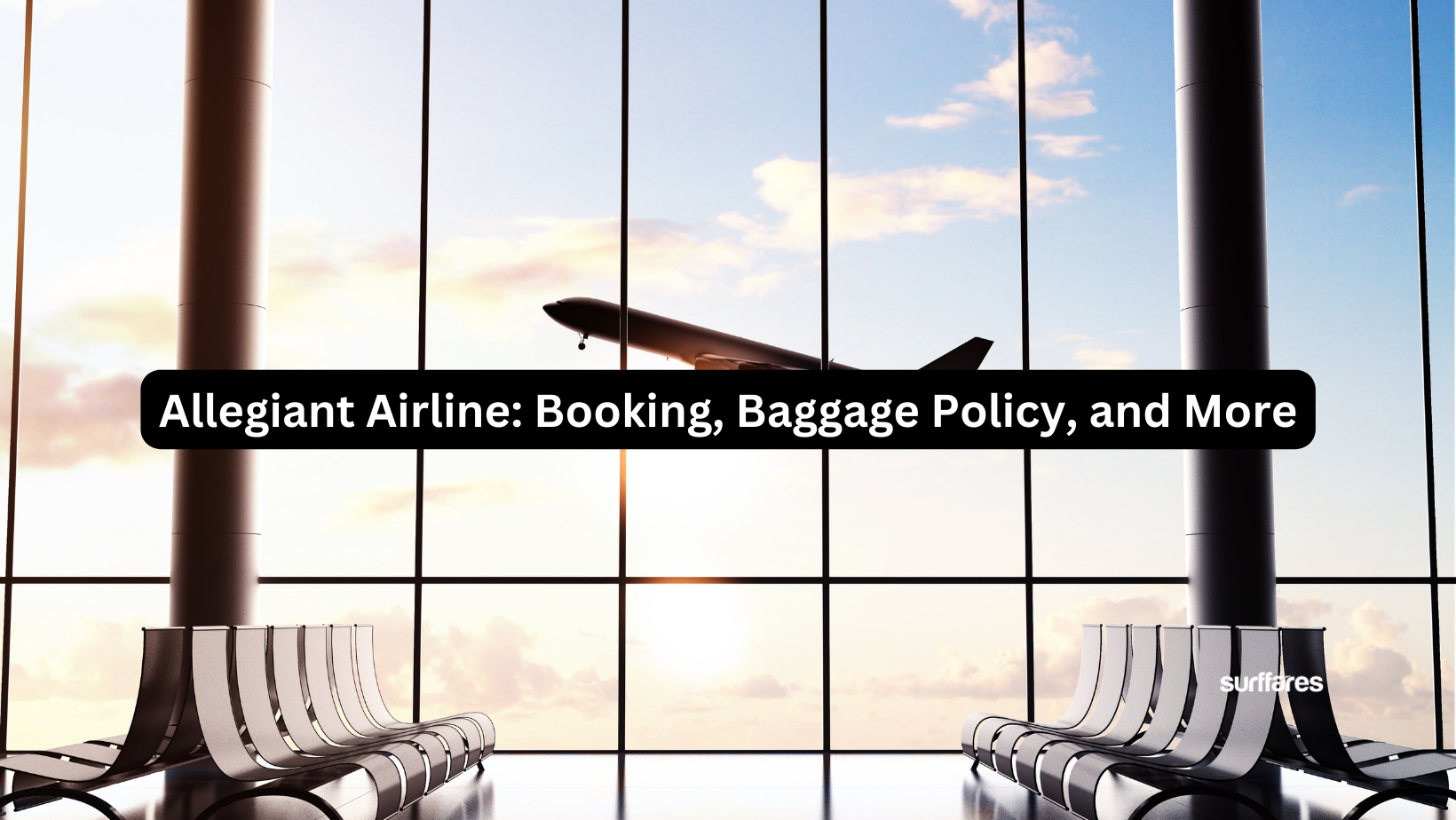 Allegiant Air is an affordable US carrier that offers a wide range of domestic flights across the country. The airline is renowned for its easy service and extremely low prices. Allegiant Airline is one of the biggest operational carriers in the US and is widely recognized in every state. The airline has gained popularity due to significantly lowering the cost and inconvenience of leisure travel. It operates from the nation's favored small cities to top-tier locations.
The airline offers a complete travel experience at an affordable price with top travel partners!
Allegiant Airline Ticket Booking Process
Tickets for Allegiant Airline go on sale five to nine months in advance. Booking flights as soon as feasible is preferable as there will be fewer reservations and more vacant seats available. Booking with the airline at the last minute can also be very expensive. You can visit the official website online or visit Surffares to make a booking.
The Allegiant airline also ensures a hassle-free booking procedure through its App. You can provide your personal details, baggage, and seat selection before you proceed to make payment through a secured gateway. You will receive your booking confirmation on the Email Id provided earlier.
Baggage Policy of Allegiant Airline
Allegiant flights permit the carrying of both carry-on and checked baggage. But there are limitations on size and weight depending on the Allegiant airfare you have booked.
In the case of carry-on baggage, passengers are allowed to bring one free personal item, such as a handbag, laptop bag, or small backpack. The maximum dimensions that are permissible are 17cm x 38cm x 40cm (7 x 15 x 16 inches). Additionally, One carry-on bag which is not bigger than 22cm x 35cm x 55cm (9 x 14 x 22 inches) can be carried per passenger.
However, you need to note that there is no free baggage allowance on this airline. You need to pay for each of the checked-in baggage. You can buy up to four checked bags per passenger. Allegiant Airlines charge an extra fee for all bags that are more than the standard 40 pounds or 18 kg. You must also ensure that the baggage size is not larger than 203cm (80 inches) overall. The baggage fees vary based on the route of the flight, but you can conveniently check the required price and add baggage while booking.
Allegiant Airline Seat Selection
Customers can make effortless reservations by visiting Allegiant Airline's official website. Here, you can swiftly and conveniently secure your favorite seats for a minimal cost. In case you do not select a seat while making the reservation, the airline will automatically assign you a seat from the remaining available seats on the plane. You can avail of the details of your seat when you check in.
Allegiant Airline Check-In Procedure
Passengers can skip long queues of check-in at the airport by getting their boarding permits from the convenience of their homes. The check-in procedure for Allegiant Airline allows passengers to obtain the best service while also saving them valuable time.
Flight check-in begins 24 hours before departure and lasts until 45 minutes before takeoff. In order to board the flight without fuss, travelers can obtain their boarding passes at the airport. When you check in successfully, you are notified via Email. Following are the different ways you can check in for an Allegiant Airline Flight:
Web Check-In: The easiest check-in method is web check-in. You can easily complete the process anytime, starting from 24 hours prior to the flight departure time. Once you have made web check-in, you can head to print your flight boarding passes, check in your baggage, and take up your seat. However, passengers carrying pets or unaccompanied minors are not allowed to avail of this facility of web check-in.
Mobile App Check-in: You can check in for the flight using the paid mobile app on your Android or iOS device, and you will instantly receive an e-boarding pass. You also have the opportunity to confirm your luggage bookings and select your appropriate seats using the mobile app of Allegiant Airlines.
Airport Check-in: You can either use the self-check-in kiosks or take help from the airport ticket counter of Allegiant Airline. Using the self-service check-in via kiosks provides you an opportunity to print your boarding pass and get your luggage checked in. However, if you are a first-time flyer or need any additional check-in help, you can reach out to the airline counter anytime. Passengers over the age of 18 years are required to bring a government-issued photo ID and confirmation mail to access their boarding pass.
Cabin Classes and Services in Allegiant Airlines
Since Allegiant Airline aims to provide flying services at affordable prices, it only offers Economy class. It ensures a simple yet comfortable flying experience for the passengers at the best rates. There is an exciting inflight menu of delectable snacks and alcoholic and non-alcoholic beverages available at an additional charge.
You can sit back and relax in a plush leather seat while you enjoy your meal. You can also carry your own devices for in-flight entertainment purposes. However, make sure that it abides by the baggage policy of the airline.
Allegiant Airlines Customer Support Services
Allegiant Airlines' customer support service lets travelers know about the latest flight offers so they enjoy the best deals on interesting vacation stays. Passengers can contact the Allegiant Air assistance desk and request an immediate resolution to their problems by calling on this toll-free number (702) 505-8888. You can even use the mobile app to address your issue or directly mail the airline asking for a solution.
Wrapping Up
Whether a one-way ticket back home or a leisure vacation with family during holidays, Allegiant Airline is a popular choice because of its hassle-free reservation process, budget-friendly prices, and comfortable flying experience. It maintains pricing control and offers an attractive range of deals for its flyers.