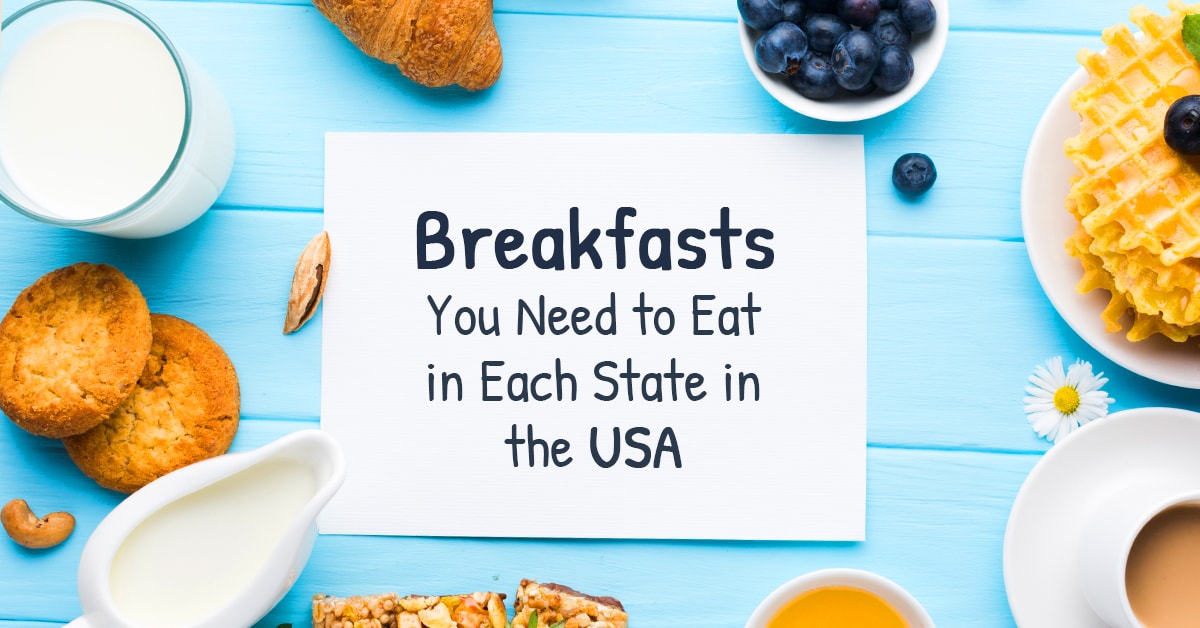 If you love food, you will love what Robert A. Heinlein said, "One should not attend even the end of the world without a good breakfast". when we talk about food in the USA, there are incredible places to visit. You get to witness various cuisines from all over the world and innovation in every cuisine. USA is also known for its spicy and creamy food.
Talking about the breakfast, it is actually the most important part of your meals. Choosing the right breakfast will start your day right, making you feel energized all day, help you focus on your work, and kick-start your metabolism as well.
You will be adequately burning calories throughout the day if you intake a healthy and proper breakfast. These are just a few of the reasons why breakfast is considered to be the most important meal of the day.
When you visit a new place, or you do not know enough about the area, it becomes difficult for you to choose the right place and the right food. So to choose among the best breakfast places in the USA, here are 36 breakfasts that will make your day.
1. Conecuh Sausage- Alabama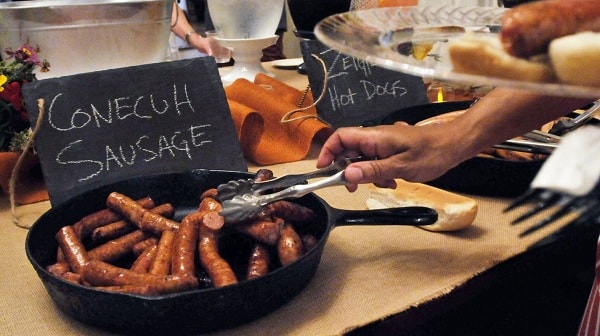 You will get plenty of sausages across the Alabama region, but there is only one Conecuh. This place was started as a family business by the late Henry Sessions in 1947.
This place serves the best sausages you will ever taste in the Alabama region. The sausages are only made from the meat of natural sheep casings and hog.
2. Nagoonberry Jam- Alaska
It has been said by the University of Alaska Fairbanks' Cooperative Extension Service that the Arctic raspberry or Nagoonberry fruits appear to be "like little jewels popping up from the ground,".
When it comes to serving this fruit as a part of the breakfast, people often choose jam to have a unique taste of summer.
3. Chocolate Gravy- Appalachia
The term "gravy" has been used from an old southern practice that describes a roux-thickened sauce, may either taste savoury or sweet, made in a skillet. Some people often refer to this delicious gravy as soppin' chocolate.
A real and solid cocoa experience will be delivered by this chocolate gravy when you taste it.
4. Pork Brains and Eggs- Appalachia
Even though brains and scrambled eggs had been eaten in almost every corner of the country, no matter whether it is morning or evening, the dish became very famous and a special breakfast in the Appalachia- the American South.
When pork brains and eggs are cooked together, they give a similar texture.
5. Los Angeles: Breakfast Burritos- California
Some people think that breakfast Burritos were originated in California, but the major part believes that the origins of Breakfast Burritos are related to New Mexico.
The food became officially national in 1991, and it was introduced by McDonald's as a part of their breakfast menu.
6. San Francisco: Morning Buns- California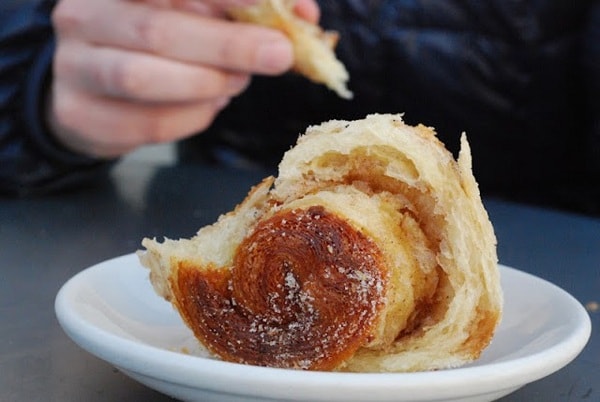 The morning buns being served at this place are not baked up in casserole dishes or made up of generic cinnamon. The buns that we refer to are made up of croissant dough that is baked in muffin tins, spread with brown sugar and cinnamon, and then dunked in cinnamon sugar.
7. Denver: Green Chile Breakfast Burrito- Colorado
During the season of Green Chile, people love to eat Green Chile Burritos in breakfast. An extra unique hit is offered by this meaty New Mexican dish that will kick-start your day with amazing vibes.
8. Florida Keys: Grits and Grunts- Florida
You might find it difficult when you look for Grits and Grunts in some schmancy restaurants. Being a classic lobster breakfast, this dish is majorly found in the Florida region. The recipe is served with an old sour and avocado that make it tastier than before.
9. Loco Moco- Hawaii
Loco Moco is one of the most exotic dishes of this place. A hamburger patty is topped on a heap of white rice, and then it is slathered with a fried egg and gravy, which results in Loco Moco.
10. Malasadas- Hawaii
Malasadas provides people with a real taste of home in Hawaii. People love to eat Malasadas in their breakfast, which is coated in granulated sugar and jammed with other fillings such as tart fruit jelly, coconut haupia cream, custard, etc. This food offers a fantastic taste when eaten messily and hot.
11. Chicago: Ann Sather's Cinnamon Roll- Illinois
The Cinnamon roll was introduced by a woman named Ann Sather in the year 1945, and she made the dish for more than 35 years. This is the reason why the roll got its name after Ann Sather. Later, the roll became the signature dish of this place.
12. Southern Indiana: Fried Biscuits and Apple Butter- Indiana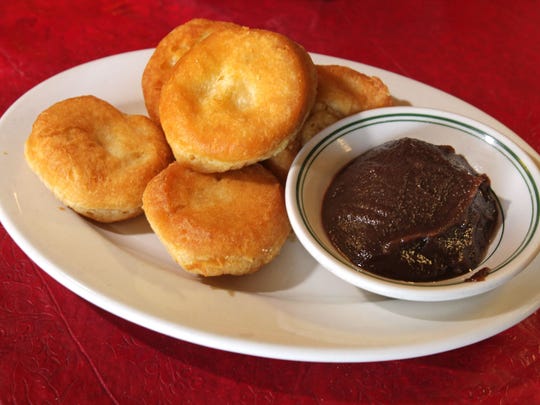 Fried biscuits and apple butter is one of the most famous breakfasts in Southern Indiana. The biscuits are dropped in a deep fryer slathered with apple butter to make the dish even better.
13. New Orleans: Eggs Sardou- Louisiana
Eggs are considered to be one of the best foods for breakfast. Eggs Sardou was invented in the 19th century by a cook at Antoine's in the French Quarter. The dish is a creamed spinach topped with buttered artichoke bottoms, hollandaise sauce and poached eggs.
14. New Orleans: Grits and Grillades- Louisiana
Grits and Grillades are made up of fried medallions of meat (usually beef, pork, or veal is used), and then they are cooked in a tomato-based or rich brown Creole sauce (the sauce may be similar to an Espagnole).
This dish remains a mystery to some people.
15. Southeastern and North Shore: Linguiça and Chouriço- Massachusetts
Portuguese chouriço often referred to as cod cakes, and eggs are the favourite breakfast of the people in Massachusetts. The dish is made up by combining two smoked Portuguese pork sausages- hot chouriço and linguiça. Linguiça is slightly spiced with salt, vinegar, garlic, and paprika.
Book Tickets Today from 100+ Airlines! Experience Fast, Easy & Secure Flight Booking on Surffares.
Check: Cheap Flights from USA to India
16. Upper Peninsula: Pannakakku- Michigan
This fantastic oven pancake known as Pannakakku was brought to Michigan by a vast population of Finnish people who settled in the Upper Peninsula. This dish is very similar to custard and is sprinkled with syrup and berries. You will also get an essence of sugar and lemon once you taste this dish.
17. Mahnomen Porridge- Minnesota
Al Franken of Minnesota hosts a weekly breakfast (on Wednesday) for the constituents of state and the staffs in his DC office when the Senate is in session. At breakfast, Mahnomen Porridge is served, which is made up of wild rice, baked with berries, cream, syrup, and nuts.
18. Egg Coffee- Minnesota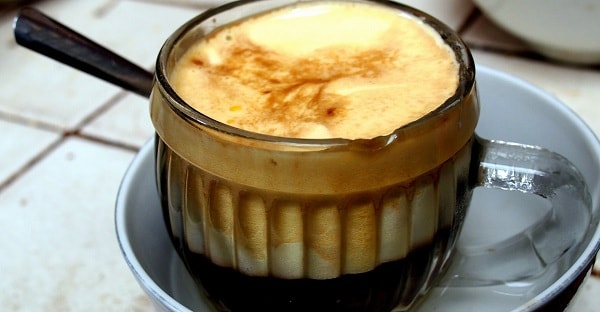 Egg Coffee is not commonly used as a meal for breakfast, but it is the tradition of Minnesota that promoted the dish. Scandinavian immigrants carried this dish which still gives extreme pleasure to the people.
19. Scrapple- Mid-Atlantic
"Scrapple is made up of everything but the oink"- the local people make fun of this dish by saying so. It means that the meal can be prepared by whatever leftover parts of the pig after cutting out the loin, bacon, ribs, and chops.
20. Delta: Grits and Tomato Gravy- Mississippi
The reasons that the Americans love to have Grits as their breakfasts are that the grits are versatile, cheap, and you can easily showcase flavours and ingredients particular to a region. One of the best tomato gravies, stir in milk, cream, or even water, are served in the Mississippi region as well.
21. Buffet- Nevada
You will find out a lot of buffets in the Nevada region, but still, you won't often find them in restaurants and hotels. This dish is not much famous among the people, yet it is one of the most amazing breakfasts you can ever have.
22. Brown Bread- New England
This brown bread served in some regions of New England is completely different from the other food because this bread is steamed instead of being baked. This dish is considered perfect for a healthy breakfast and tastes mildly sweet and tender.
23. Taylor Ham / Pork Roll- New Jersey
There is an invisible line that cuts New Jersey in two halves from top to bottom. The line is often referred to as the dish which is known as Taylor Ham in the Northern parts of New Jersey and Pork Roll in the Southern part of the New Jersey.
24. Enchiladas Montadas- New Mexico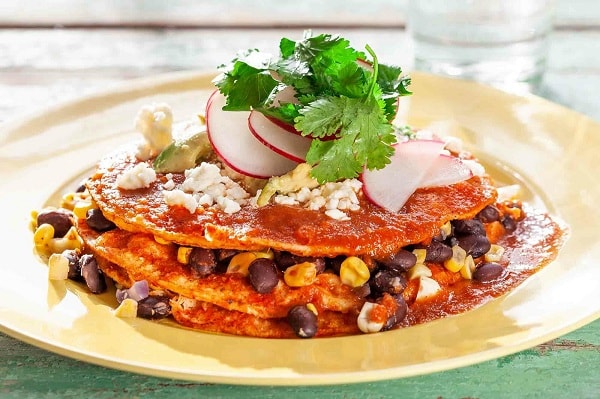 The enchiladas that are served in New Mexico as a meal at breakfast are also famous in some parts of Sonora, Mexico. The reason behind the popularity of this dish in Mexico is that it makes good use of New Mexican red chiles.
25. Hatch Chiles- New Mexico
People living in New Mexico are so fond of Hatch Chiles that they eat this meal at their breakfast throughout the year. This dish has become more popular during the annual Hatch Chile Festival. The distinctly smoky flavour adds an essence of magic when this dish is served at breakfast.
26. NYC: Bacon, Egg, and Cheese on a Roll- New York
You will find out bacon, egg and cheese as a meal in every 1 out of 5 restaurants or corner stores in New York City. This dish is so popular that people love to have it as their breakfast in the entire USA.
27. Lefse- North Dakota
The people of the Upper Midwest follow a goodly bit of Scandinavian cuisine and culture at their breakfast. The meal they generally intake is a kind of lefse (which is a thin, potato-based flatbread). It is served with smoked fish, scrambled eggs, sugar, jam, etc.
28. Cincinnati: Goetta- Ohio
The dish, known as Goetta, has a significant contribution to the country's breakfast. Goetta is nothing but a mixture of pork shoulder; sometimes, beef is also used. After that, it is presented with spices, onions, and pinhead oats.
29. Marionberry Jam- Oregon
If you are in Oregon, there is a chance that you will get something to eat slathered in marionberry jam. The University of Oregon cultivated the berry for the very first time in the early 1900s.
The berry is a cross of Olallie blackberries and Chehalem. Some fantastic jams can be made out of these berries and can be used for breakfast.
30. Dutch Baby- Pacific Northwest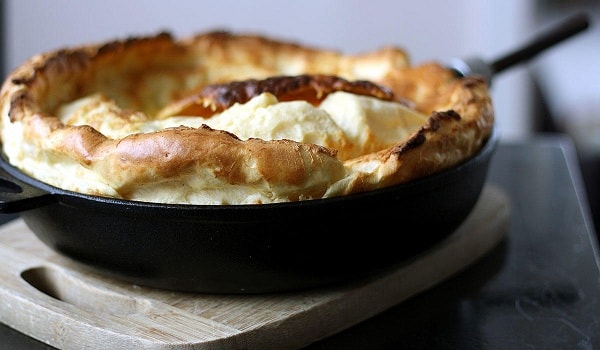 Dutch Baby is a vast and amazing pancake that could be seen on the menus of significant restaurants these days. This meal initially appeared as a part of the German pfannkuchen's play at Manca's Cafe (Seattle) in the early 1900s. This dish can be served either savoury or sweet, finished off with butter, lemon and sugar.
31. Eastern Pennsylvania: Creamed Chipped Beef on Toast- Pennsylvania
If you are an outsider, you might think that dried beef and gravy on bread is an odd choice. However, people at Eastern Pennsylvania love to have this dish as a breakfast meal.
32. Johnnycakes- Rhode Island
A native Rhode Islander says that "One thing to know about johnnycakes is that nobody actually eats them". He adds that significant restaurants do not know how to make them, but if made correctly, this dish is one of the best meals that could be served for breakfast.
33. Lowcountry: Shrimp and Grits- South Carolina
You will get plenty of grits and shrimp all over the South, but the one that is being served at Lowcountry of South Carolina has its own magic. To prepare the dish, bacon is mixed with the fat rendered into a delicious gravy and sometimes sprinkled with mushrooms, scallions, or lemons.
34. Bologna Biscuit- Tennessee
The bologna that is served at this place is a thick layer of meat that has been fried or grilled until the edges become crispy; thus, making it an ideal meal for breakfast.
35. Utah Scones- Utah
The Utah Scones are yeasted, sweet and fried dough that is often used as the base for savoury Navajo tacos. The dish becomes impressive when it is served with butter and honey at breakfast.
36. Hoppel Poppel- Wisconsin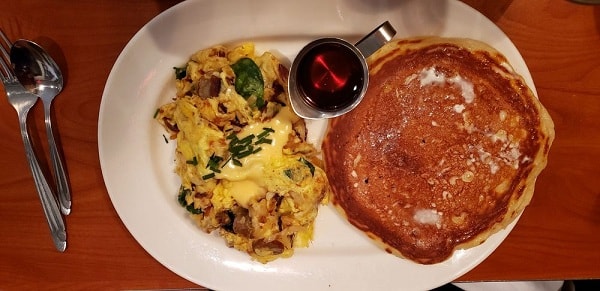 You are halfway to have Hoppel Poppel if you have some leftover potatoes and meat. Hoppel Poppel is a very famous dish made up from the leftover of meat and potatoes, fried with chopped onions and a few eggs until it turns brown.
Conclusion
The first thing one must do in order to know a bit more about any place and its traditions are having their food. There are various foods and dishes that are firmly attached to a place due to the industry, agriculture, culture or tradition. Sometimes, food becomes the identity of a particular area.
Whatever reason matempt you to try one of the dishes mentioned above, make sure you eat all of them at least once in your lifetime if you are in the US.
Here are the Handpicked article that you must read.
Flight prices from Canada to India
Credit Cards with Airport Lounge Access
Travel Planning Tips for Multicity Flights
List of Nonstop Flights from USA to India