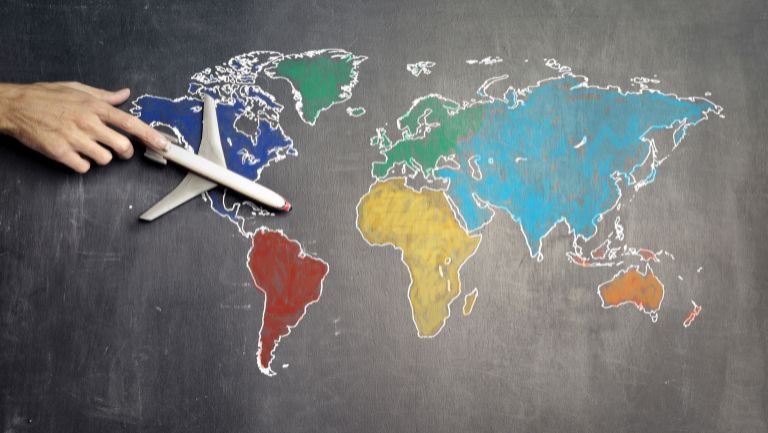 Various Airlines work for people to travel from one place to another along with their goods on the globe. The airline has three types – standard, chartered, and cargo. You can choose the airline companies and get the benefits from these flights. Moreover, you can travel with comfort and ease. Are you looking for information regarding Which Airline Companies Offer The Best Flight Deals To India? Then this blog is for you. This blog will help you to obtain all the needed details that enhance your knowledge about flights that operate from the USA and land in India.
List Of The Airline Companies That Offers The Best Flight Deals To India | An Overview 
| | | |
| --- | --- | --- |
|   |  Airline Name | Most Notable Features |
| 1. | Emirates Airlines | Extensive global network, luxurious services |
| 2. | Qatar Airways | Award-winning airline, with competitive fares |
| 3. | Etihad Airways | Comfortable flights, well-connected hub |
| 4. | Air India | Direct flights, generous baggage allowance |
| 5. | United Airlines | Non-stop flights, extensive route network |
| 6. | Delta Air Lines | Direct flights, excellent service |
| 7. | American Airlines | Partner airlines for various Indian destinations |
1) Emirates Airlines
Emirates Airlines is the most expensive yet most famous airline in the globe. The airline is known for its premium quality services that make the journey luxurious and memorable. The airline introduced its services from the USA to India recently. It offers multiple flights from various cities in the USA to major destinations in India. For example, it connects major cities in the United States Of America – New York, Los Angeles, San Francisco, Dallas, Houston, and more, to multiple cities in India – Mumbai, Delhi, Chennai, Hyderabad, Bengaluru, and Kochi.
Moreover, Emirates is renowned for its top-notch in-flight services, comfortable seating, and entertainment options. The company starts in the year 1985 with its headquarters located at           Garhoud, Dubai, United Arab Emirates will offer you the best deals to travel in 2023.
2) Qatar Airways
The extraordinary award-winning flying company provides numerous flights from the USA to India. It has a very well-connected hub and connects different towns or cities from the USA to India. As an example,  New York, Chicago, Los Angeles, Washington, D.C., and others, with connections to cities in India, such as Mumbai, Delhi, Bengaluru, and Ahmedabad. The aviation company also provides several flight options to travel to the described destinations. Qatar Airways is known for its exceptional business-class amenities, including spacious cabins, lie-flat beds, and premium dining options. Business class passengers also have access to luxurious airport lounges. Additionally, at the present movement, the aviation company operates flights from its hub Hamad international airport. You won't feel any difficulty traveling from the USA to India. The aviation company also offers discounts and other amenities.
3) United Airlines
United Airlines is an American airline located in Chicago. The company operates various flights from the USA to India to numerous destinations. Such as New York, Hudson, Chicago to Bangalore, Mumbai, Ahmedabad, and Delhi. At present, the company has 8 main hubs located in different states of America. The primary one is Chicago–O'Hare – United's hub for the Midwest and largest hub overall. Apart from this, the others are – Denver, Guam, Houston–Intercontinental, Los Angeles, San Francisco, and lastly Washington–Dulles. Most of the market share of these airlines is controlled by Americans. And the company provides the expected services to its passengers. The seating is quite comfortable. And of course,
in-flight entertainment and friendly services make the journey smooth and unforgettable.
4) Delta Airlines
Delta Airlines offer different flight reservations From the USA to India. The list is quite long. Delta Airlines was Initiated in 1925 and has different hubs. The main hub is situated in Atlanta which receives the largest share of flights. In recent years the aviation company successfully expanded its branches around the world. Among the 9 hubs, the delta airline Atlanta is its largest in terms of total passengers and number of departures. Also, it is ranked second among the world's largest airlines by number of passengers carried, passenger miles flown, and fleet size. Moreover, the airline operates flights from the USA to India regularly and again and again. Hence, if you miss the fight then you can take the second. The top-notch services make this airline the most reputed and famous airline in the world and America.
5) American Airline
American Airlines become the most reliable travel option for passengers flying between the USA and India. The airlines inaugurated premium quality services in 1926. And now it is the biggest airline in the world when measured by scheduled commuters carried and revenue passenger mile, Along with this, the company is also known for its partnerships with other airlines. Passengers may find flights with layovers and connections through partner carriers to major Indian cities like Delhi and Mumbai. Furthermore, American Airlines offers the AAdvantage loyalty program. It permits frequent travelers to earn miles and enjoy various perks, including upgrades, lounge access, and more. American Airlines often provides seasonal promotions and deals. It enables passengers to find competitive fares and cost-effective options for their flights to India.
The Final Words
 It is crucial to check all the deals that different airlines offer. Knowing these benefits you in the present and future too. It also gives you golden opportunities to grab the best plans for your trip. Along with this, your journey becomes cool and smooth. In the end, I hope that you enjoyed this blog. It proved successful to find all the information related to Which Airline Companies Offer The Best Flight Deals To India. Stay updated and feel free to keep reading interesting stuff like this. Bon Voyage!