Known for their elaborate choreography, eloquent costumes and larger than life action sequences, Bollywood films are best known for their locations.
Film directors have always paid the backdrop its due attention, and these locations eventually turned into a huge tourist spot. They are always searching for breathtakingly beautiful places in India.
Whether it's the Aguada Fort in Goa that is often called the Dil Chahta Hai Fort or the old and Rustic Hadimba Temple shown in Yeh Jawani Hai Deewani, Bollywood has often made in impact on our itineraries while going places.
Many a time, we see a beautiful location shown in a Bollywood film and our heart goes, "I so want to be there" within a jiffy.
But that's not the only side to it, sometimes, it's the place that makes a director want to shoot a particular scene there. While we all may be aware of the place, including it as a backdrop makes its popularity increase multifold.
That's the power of cinema, the power that brings us today to our list of beautiful Indian destinations in Bollywood movies.
Athirapally Falls, Kerala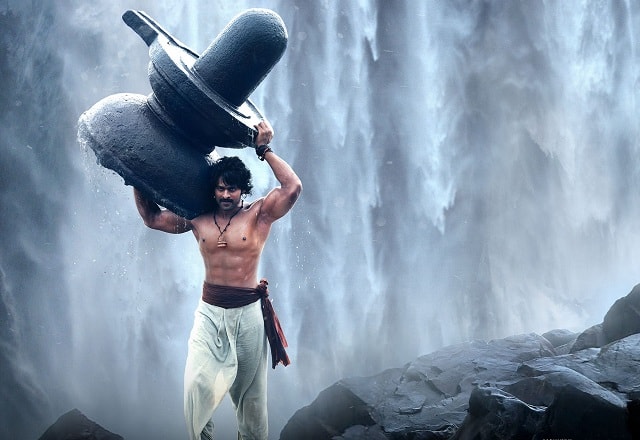 Many remember this astoundingly beautiful location as the backdrop for Bahubali and its sequel. The lush green forest along with its gigantic fall served as a perfect backdrop for the Indian epic action blockbuster.
But it was not just the Baahubali and its sequel that brought the director's attention to this place.
Before S. S. Rajamouli, it was Mani Ratnam who was completely mesmerized by the divine beauty of Athirapally Falls. The captivating falls inspired him to shoot the song "Behne De" right there.
The rather untouched place is often remembered for the song that echoes and calls us to witness the Athirapally Falls. How we wish the same could be said for the movie.
Best Time To Visit Athirapally Falls
Athirapally Falls never dry out, and their full glory can be witnessed during monsoons.
However, it's also the time when rains can cause some inconvenience to the tourists. So, we recommend you to admire the majestic falls anytime between September to January.
Munnar Tea Plantations, Kerala

Kerala once again, you may wonder. Visit Kerala once and you'll know why it is called God's Own Country. It's not just the backwaters that make film directors want to be in Kerala in any season.
The tea plantations at Munnar have been equally loved by film director Rohit Shetty for Chennai Express.
Munnar tea plantations also attracted Ram Gopal Verma for Nishabd. At the same time, Ang Lee, the director of the epic shipreck tail, Life of Pi also chose Munnar as a backdrop for the title character's background story.
When international film directors are already eyeing this beautiful and serene land, Bollywood Directors just can't lag in the race.
Best Time To Visit Munnar Tea Plantations
The monsoon season between June to September marks the best time to visit Munnar. While many tourists like to avoid Kerala monsoons, you can surely enjoy a quiet vacation if you go during this time.
The lush green hills of Munnar will welcome you with a breeze that takes all your stress and tiredness away.
Ooty, Tamil Nadu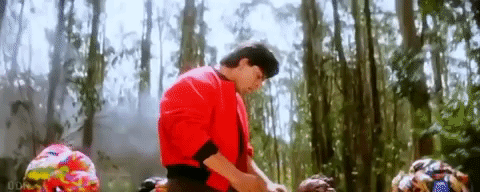 Spectacular greenery, crystal clear lakes, towering mountains, Ooty has everything a film director would love to have as a scenic backdrop.
Ooty is considered to be among the famous tourist places in South India every wanderlust must visit. Everyone who remembers "Chaiyya Chaiyya" fell in love with the videography as much as the song itself. The whole sequence was shot on a train going up and down the hills of Ooty.
Years down the line, Ooty became a go-to place for many film directors, including Kuchh Kuchh Hota hai, Ajab Prem Ki Gajab Kahani, and many more. Ooty is a place where time runs, or rather, strolls at its own pace.
Ooty is laid back, chilled out and makes you forget the chaotic, urban life. When you are in Ooty, don't forget to visit the Botanical Gardens and the uber-famous Rose Garden.
Best Time To Visit Ooty
The best time to visit Ooty is between the months of October and June. Calling the winters of Ooty amazing will be a ridiculous understatement. Do enjoy a train ride across the Nilgiri Hills in the fogs of Ooty winters.
Rajasthan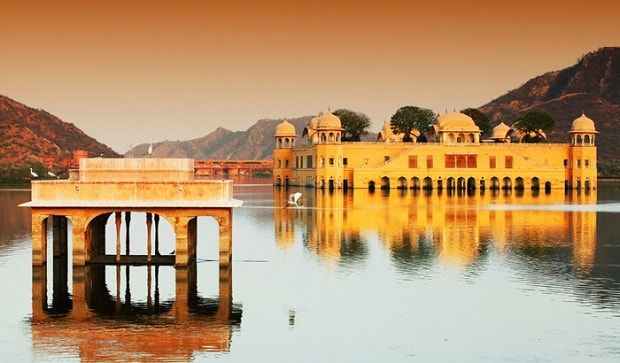 Whether it's the Udaipur Fort or the Amer Fort, every Bollywood Film that revolves around the Royal Rajputana families of Rajasthan must include one of the many forts of Rajasthan.
Rajasthan boasts of an elaborate history, and every fort has a compelling story behind it.
From the Royal Story of the Akbar, the Great Mughal Emperor in "Jodha Akbar" to "Lamhe" one of the greatest and finest films in the history of Indian cinema, Rajasthan has offered its majestic monuments and natural beauty as a backdrop to many films.
Best Time To Visit Rajasthan
Given the massive Thar desert dominating 60% of Rajasthan, summers will be scorching and things can pretty tough for some. The best time to visit Rajasthan will be during winters.
From October to March, the days in Rajasthan are fairly hot, but the nights are cold, like, really cold.
Ladakh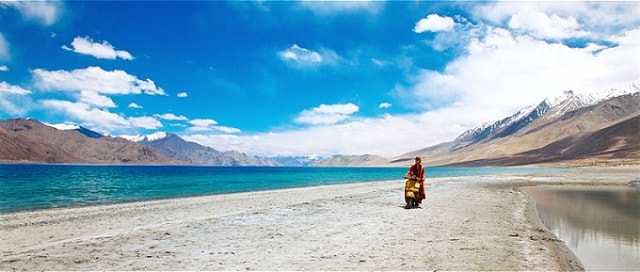 The name itself draws the attention of many travelers, tourists, and nature lovers. Needless to say, Ladakh is among the dream places to visit in India. And that's why film directors such as Mani Ratnam, Pooja Bhatt, Farhan Akhtar, Rajkumar Hirani, Yash Chopra, and many others chose Ladakh as their preferred location for shooting parts of their films, if not the whole movies.
Pangong Lake is a name that needs no introduction, especially when someone hs already heard of Ladakh. It is one of the most beautiful lakes you can come across.
Ladakh holds a special place in every traveler's bucket list. And if you happen to be a rider, you already know you have either been there, or you long to be there.
Best Time To Visit Ladakh
Routes and roads to Ladakh open up for tourists in April. However, it is between mid-September and Mid October that you'll be able to see Ladakh's beauty at its prime.
Conclusion
India is home to picturesque valleys, lush green forests, gigantic mountains, mighty falls, and beautiful sand dunes. Every nook and corner of this beautiful country has something for travelers.
Film directors, with their visual intelligence, can see beauty everywhere. We've listed just five of the best Indian destinations where popular Bollywood Films were shot. The list is long, and we'll be back with some more beautiful locations.
In the meantime, do share your favorite destinations and films shot there. Keep traveling, keep exploring.