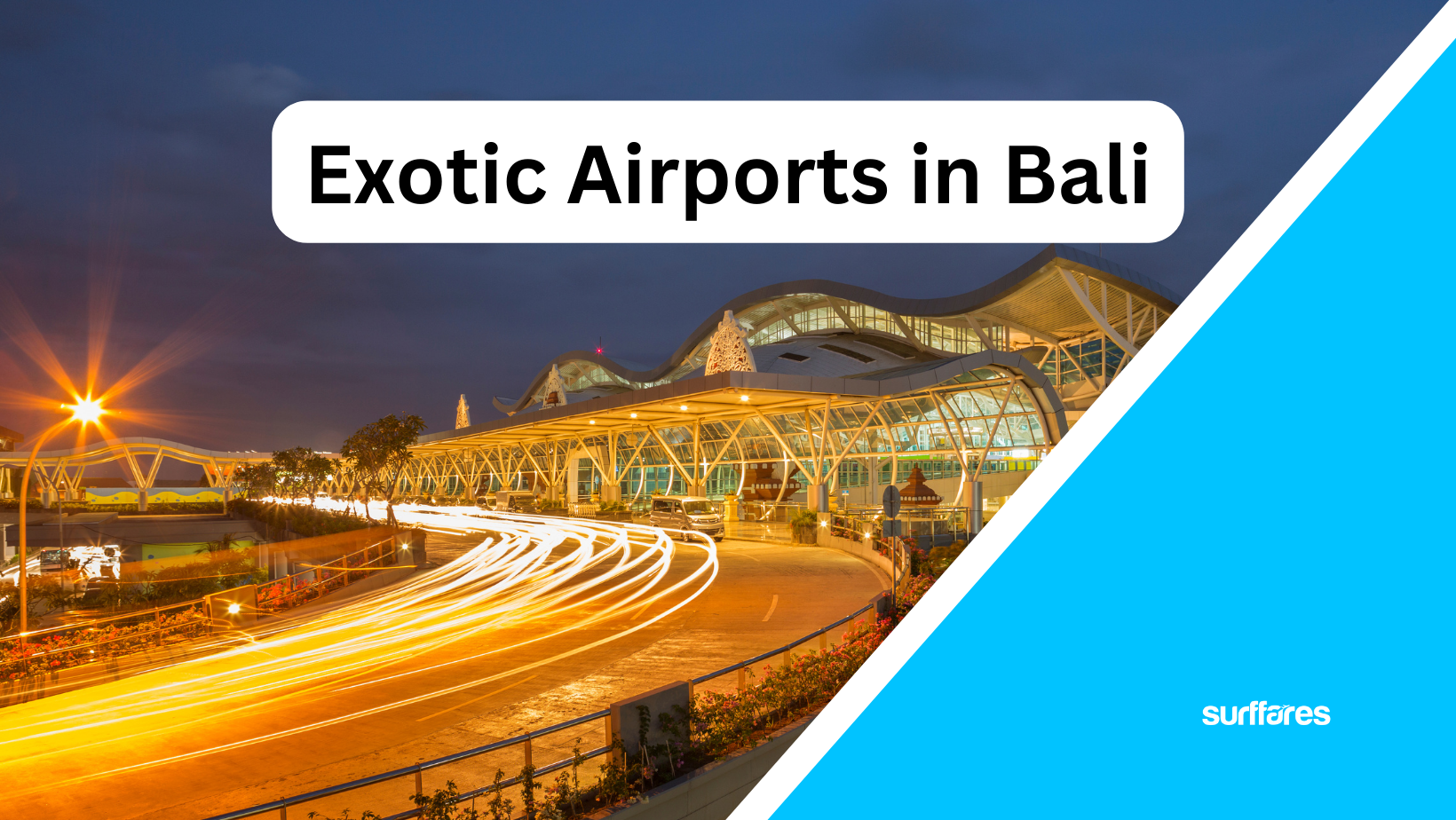 Bali in Indonesia is a quintessential holiday destination for people from around the globe. May it be a friend's summer vacation or a honeymoon couple's trip, Bali is a leading tourist hub. Are you heading to Bali for a memorable trip? Make your travel experiences easy by knowing the required airport information. This article outlines facility details, transit advice, parking advice, and automobile rental details for airports in Bali.
One of the widely operational airports in Bali is the Ngurah Rai Airport, located in the southern part of Bali. Read on to learn everything about the airport!
Ngurah Rai Airport Overview
Ngurah Rai Airport (DPS), formerly Denpasar International Airport, is located amidst Kuta and Jimbaran. It is 9 miles (13 km) south of Denpasar, Bali's capital and biggest city. It was given a new name in honor of I Gusta Ngurah Rai, the martyred leader of Indonesia who died in the Indonesian Revolution of 1946, opposing Dutch autonomy.
Bali is a well-liked vacation destination, and most significant airports offer flights there. International flights to the airports in Bali originate from hubs around the Pacific region and Australia, including Hong Kong, Bangkok, Perth, Singapore, Jakarta, Sydney, and Seoul. Flights also arrive from airports farther away, including Amsterdam and Moscow. However, there are many domestic flights that operate within Indonesia and are connected to Bali frequently. This airport is compact yet well-designed to function for both international and domestic flights.
Despite having an overall 8 million carrying capacity, the airport sometimes faces a lot more people. Being the third busiest airport in Indonesia, it is frequently busy and disorganized. You need to be patient to deal with long queues at the airports in Bali during tourist seasons.
In 2013, the brand-new international terminal debuted, and in 2014, the domestic terminal underwent renovations for a reopening. The new terminal offers ten gate jet bridges, a bigger duty-free outlet mall, and a dining area along with 62 check-in kiosks for the comfort of travelers.
Terminal Transfer in Ngurah Rai Airport
Two terminals are operational in the Ngurah Rai airport. The international terminal is located in the latest building, while the domestic terminal is in the old building. Distinct departure and arrival lounges are found at the international terminal, which reflects a Balinese architectural concept. There are 62 check-in counters with automated scanners, and luggage escalators are located in the departures zone.
Well-maintained buses are used by the airport's fleet to transport people to and from flights that execute on a cheap budget without the aid of an airbridge. These buses frequently transport passengers between the domestic terminal and the cargo terminal. The cargo terminal is located to the east of the international and domestic terminals at the Ngurah Rai airport.
There are several lounge areas available on both the domestic and international terminals. Some of these lounges are equipped with kid-friendly play zones and theatres that display movies, current events, entertainment, and sports networks.
How to Reach Bali Town from the Airport?
You must go to the immigration section in the arrival terminal when your airline arrives at Bali Airport and submit your passport and visa there. There are two sections: for people with Visa-on-Arrival and for people with a Non-Visa on Arrival category. A minimum of 169 nations are permitted to arrive at airports in Bali without a visa. Getting through the immigration process will take a minimum of 15 minutes. However, if your flight is landing concurrently with others, be prepared for long waiting times.
You can visit the baggage claiming area after your passport has been validated. Along with porter services, trolleys are accessible near the baggage claiming zone. The arrival hall is right by the terminal. You will find plenty of tours and hotel pick-up services in this area. Many hotels provide pre-booked shuttle services from the airport to the hotel in Bali. However, there are other alternatives available to get to the town of Bali from the airport.
You can take the taxi that operates outside airports in Bali, popularly known as the Taksi Ngurah Rai. You can find these taxis on the stand located outside both terminals. They run on a pre-paid voucher framework, with vouchers available for purchase at a designated taxi desk. The service is accessible all around the day.
Metered taxis are also available outside the Ngurah Rai airport ground for traveling to the town. These taxis are not allowed to pick up customers directly from the airport. However, these rental taxis are more budget-friendly than airport taxis. All you need to do is walk beyond the exit with your luggage to get onto a metered taxi.
There are no train services connecting to airports in Bali. However, you can use the public bus that goes from the airport to Tegal Station in Denpasar. You will find a bus outside the airport gate on turning right from the terminal exit. If you're traveling with a group of people, it's a good idea to hire a whole Bemo from the airport.
Car Parking Services
There is an independent spacious parking lot with more than 2,000 places situated in front of the terminal building. You can avail of both long-term and short-term prices for availing of car parking at airports in Bali.
Information Desks at Ngurah Rai Airport
This airport is not equipped with any information desk yet.
Ngurah Rai Airport Facilities and Services
The Ngurah Rai airport is home to a wide range of exciting facilities and top-notch services that elevates your travel experience to Bali. Here are some of the facilities available:
1. Money and Communication Options: There are several national Indonesian banks in the domestic terminal and 7 bank counters with ATMs, and 8 different money changers.
2. Luggage: When arriving at airports in Bali, porter assistance is available. Paying more than their advertised rate is customary for a porter's service. This can amount to anything around Rp 50,000. As a precautionary step, it is essential to keep a written record of the porter's identification number just in case anything goes wrong.
3. Conference and business: There are two posh VIP lounges. The Prada Lounge costs IDR 100,000 for people who are not flying Business class.
4. Other facilities: The terminals at Ngurah Rai Airport also offer spa treatments, smoking spaces, restrooms, and prayer spaces.
5. Wi-Fi: There is Wi-Fi connectivity available in the Executive Lounge of the International Terminal.
6. Shopping: Along with a wide selection of duty-free shops, Ngurah Rai Airport being one of the most posh airports in Bali, has boutiques, bookstores, and eclectic souvenir shops.
7. Food and Drinks: There are multiple eateries, top-notch cafes, and quality snack bars that provide delectable snacks, coffee, and affluent dining options.
Wrapping Up
Bali is home to one of the most well-kept airports in Indonesia, the Ngurah Rai Airport in Denpasar. The Ngurah Rai Airport operates both domestic and International flights from around the globe. It ensures a luxurious lounging and hassle-free travel experience to Bali, Indonesia. Additionally, there are two more upcoming airports in Bali to overcome the capacity pressure issues at Ngurah Rai Airport.