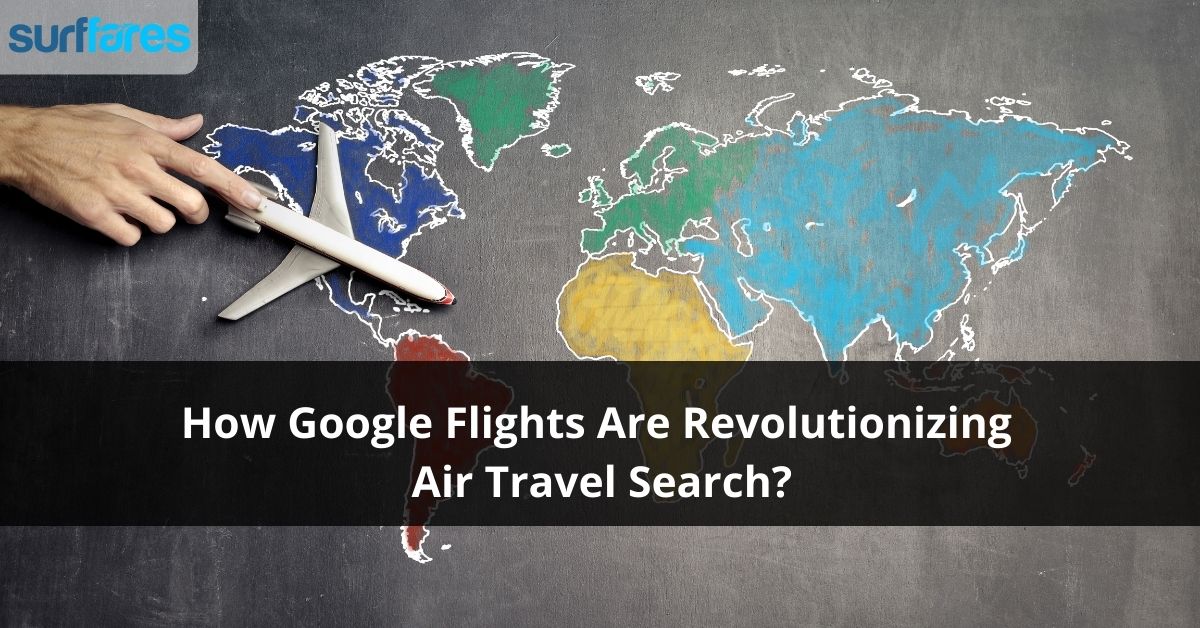 Do you know what is better than Google?
Umm yes, we know you will Google this question to find the answer.
Well, the answer lies in the question itself-nothing is better than Google.
Google has deepened its roots in every aspect of our lives. From searching hotels to finding unchartered places and examining a company's rating to using AI assistant for playing your favorite song, Google has exposed tons of tech possibilities.
Day by day, we are seeing the better version of Google search engines with improved functionalities and better search stories. One such example is Google Flights. The newly added module helps us not just search for the ideal flight but book it with the most competitive rates.
Let us dwell deeper into the pool of insights and know more about Google flights in detail.
The Inception
In 2011, Google was striving to provide a world-class feature in its search engine that would complement its travel offerings. The answer came in the manner of an online search and booking services for air travel. And there was the remarkable option of buying Google flight tickets along with the searches using respective third-party links.
Everything Google creates is made out of either necessity or convenience. And Google Flights is not an exception.
Using the flight search anywhere feature, Google flights soon came into the picture and became the talk of the town, especially for international travelers. It further included open-ended searches that are categorized on different points other than just destination.
A good instance of this feature is how a user may search flights as per the day of the travel or even time of the travel. He can even search as per the budget and class he wishes to afford. The flights search option helps by calculating the price for each day of the next 12 months.
This means you can check out the prices for the entire year and chose which one suits you best. Adding to the innovation is the display of a graphical representation of tickets and data that help users essentially get hold of relevant information.
Google Flights shows add-on luggage fees and policies
Unless you are traveling around the globe with a laptop bag in hand, you should be aware of the luggage fees charged by your airlines. Usually, the fees were revealed at the time of boarding and you had to search your pockets for that extra flow of cash.
Google, being Google worked on this issue and resolved it immaculately.
When you are booking with google Flight, you can see a handy icon in front of each price of the airlines you are choosing. This icon indicates whether the airlines you are selecting includes carry-on baggage charge or not.
If you see a strikethrough, it means the full-size carry forward baggage will be charged extra. You will have to pay for it. If you don't see it, you will see quite a few options indicating that the airlines included carry-on baggage fees.
The newly introduced flexible-alerts
Google alerts are a common and useful feature in the flight booking section. It helped you to put a memo or notification reminder on a particular date and Google would alert you if the prices dropped on that very date.
However, you were not allowed to use a flexible tracker for different dates. You had to setup multiple alerts for different dates. But this has been fixed now.
Google has now allowed for a flexible date alerts option. You can now select the 'any date' option while setting in a reminder or while tracking the dates. Google will alert you about any date that meets the criteria you have been looking for under a period of one month.
For example, if you are looking for a trip to New York on the 15th of March, you will not have to set a price or availability alert for that very day. You can choose the 'any date' option and Google will tell you matching tickets options for the entire month.
Destination specific search
Google flights allow you to search for a specific airport to visit in a country. For instance, you can choose whether you want to go to Delhi Airport from U.S. or land at Mumbai Airport.
But Google has taken its search option a step further. If you are not concerned about the location of the airport in the country, Google will show you a fish-eye view of every airport and the fares of the tickets to those airports within a country.
You can then search the airport, city, state, or even the prices that match your option. The main idea of this feature is to allow the user to get the best deal towards the ideal destination without any compromise.
Offering a plethora of options to save money
Google Flights are convenient. But besides that, they are made to cater to the people, helping them save not just time but money also. For many travelers, the plans are not set in stone and they can bear with some flexibility.
If that is the case, you can easily save money while searching for nearby airports. You can even include options that are different from your preferred city. This might surely extend your travel time a bit but looking at the fares, it might save you tons of money.
The second way to save money is by using the date's grid. If you can deal with a change of date here and there, you can travel during the days when fares are minimum.
Lastly, the showcase of economic as well as premium economy or business class will tell you how much you need to pay extra for that lavish comfort. Choose economy and travel like a normal person while saving some money.
Adding to the convenience is the way how Google Flights will alert you if the higher class seat is just a few bucks extra so you can travel more comfortably without putting a dent in your budget.
Added features during Covid times
As the world battles with the Covid variants, Google is doing its bit to help people travel safely. It has added a special feature where you can track your flights and even the hotels in particular states or cities.
The added information about travel will reveal the number of people in the hotels, the traffic delays on the roads, the congestion or crowd levels in the streets, and much more. You can also see the open hotels percentage and the availability of the flights using Google Maps.
This will help a common user identify the infected area and restrain his travel from any possibility of infection. One can also check which airport is banned due to infection.
In a nutshell
Google Flights have made air travel easy and accessible for the common man. The misconception about the flight ticket's rocketing fares has been eliminated, thanks to the Google flights search anywhere options.
With many features still being improvised by the company, we can expect some unanticipated functionalities with just one click.
As of now, Google plans for its flights' search are unknown.
Who knows we shall be able to see a common flight booking platform for all airlines from Google?
Or we can check the details of passengers traveling on our flight with us?
In the current situation, we can easily declare that the future is bright and one can easily trust the search results of Google flights without any single doubt.