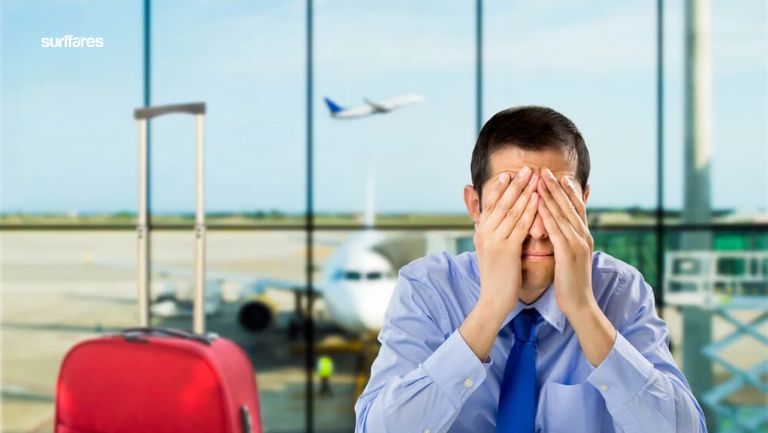 Well, oversleeping is the habit of many and they have to face the consequences of this. Sometimes due to this people miss the important events in their lives. Missing the flight is one of them. And here the panic and stress start. After check-in, if you miss your flight, promptly contact your airline. They may provide alternative travel choices, such as rescheduling your flight or buying a new ticket, subject to their policies. In this blog, you will get to learn about What To Do If I Overslept And Missed My Flight. So, let's dig into it.
Look At Your Ticket And Flight Details
The first thing is to not panic and hit your head with the wall. Take a few deep breaths and assess the situation. The second thing was ticket and flight details after realizing that I Overslept And Missed My Flight. Now it's time to double-check your flight's date and time. And see if there are alternative flights on the same or the following day. If you use a travel agent, reach out quickly for help with rebooking.
Contact The Airline Immediately
Once you confirm that you missed the flight and do not have any other option. Then ring the bell to the airline company that you booked the flight as soon as possible. Do not take the wrong step in a panic state. And follow the below-mentioned instructions carefully.
| | | |
| --- | --- | --- |
| 1. | Inspect your confirmed ticket | Firstly, look at your ticket confirmation or itinerary. And Find the airline's contact information. Such as a phone number or email. |
| 2. | Call the Airline | Dial the airline's customer service immediately. As well as inform them you missed your flight and need rebooking help. Also, provide the reservation code or ticket number. |
| 3. | Be Polite and Patient | Keep in mind that the airport instructors are there to help you. And it is vital to stay patient and courteous throughout. |
| 4. | Ask About Rebooking Options | Inquire about available rebooking options. Additionally, get details on free or paid rebooking possibilities. |
| 5. | Consider Alternative Routes | If there are no direct flights, discuss alternative routes. Along with this, explore connecting flights with the representative. |
| 6. | Confirm the Details | kindly, and double-check the new flight details. As an epitome of date, time, and airport. And ensure you have all the necessary travel documents. |
Lastly, it is important to keep an eye on the new booking. As well as record the conversation between you and the assistant. So you don't get into the fraud.
Keep Your Travel Insurance
Well, travel insurance helps in this type of difficult time. Certain travel insurance plans provide coverage for missed flights. Especially, resulting from unexpected events like accidents or illnesses. It means your policy includes coverage for missed flights. So, you have the option to seek compensation to offset the expenses incurred when rebooking your flight.
Discover New Options
You can go for the new options after you know that I Overslept And Missed My Flight. Consider the following option to continue the trip in a better way.
Rebook Your Flight – The airlines give you a change of flight with extra cost.
Standby For Another Flight – You can travel on another flight with the same destination as standby if possible.
Book a New Flight – If it is urgent work then book another flight.
Cancel Your Trip – If you are unable to book or cancel the flight, then the last option is to cancel the flight.
Check Out Other Methods Of Transportation
Discovering alternative transportation options to reach your destination is important. Whether it's a train, bus, or rental car, the choice can vary based on your location and situation. Here are some valuable pointers for uncovering alternative transportation
| | | |
| --- | --- | --- |
| Transportation Option | Description | Booking Method |
| Train and Bus Schedules | You can check schedules online for well-developed train or bus networks. | Online booking or at the station |
| Ride-Sharing Services | Use ride-sharing apps to hire cost-effective rides. | Smartphone app |
| Car Rental Services | Rent a car for locations where it's necessary. | Online booking, pick up at the airport or nearby |
| Other Forms of Transportation | Explore options like ferries or bicycles based on location. | Research online or ask local for guidance |
Keep Your Essentials Documents Ready 
It's crucial to record everything and have important contacts ready. Note down the airline rep's name, call details, and info provided. Keep travel docs like tickets, passports, and insurance in an accessible spot. Also, save key numbers like airline, airport, and insurance for quick communication. Being organized eases stress and streamlines rebooking.
Learn From The Experience And Move On
Undoubtedly, finding yourself in such a stressful situation can be challenging, but it's also a chance to learn and grow. Embrace it as a lesson for the future. Stay calm and collected, and remember to enjoy the journey despite the hiccups. Take proactive measures like setting multiple alarms placed across the room. However, Prioritize double-checking your flight details the night before and ensure you're well-rested. Especially for those early morning flights. Additionally, take some time to reflect on why you overslept. Was it lack of sleep, an overly busy schedule, or other factors? Understanding the reason can help prevent a recurrence. In addition, instead of dwelling on the mishap, use it as motivation to avoid making the same mistake again. Accept that setbacks happen, but they don't define your entire journey. Learn, adapt, and move forward with a newfound sense of preparedness and determination.
 Also, read – Must Follow Rules While Travelling To India
In A Nutshell,
Experiencing a missed flight can be both frustrating and stressful. However, maintaining composure and concentration is crucial. However, this is all about I Overslept And Missed My Flight. I hope you love this blog and find the information you need. keep appraised and stay connected!