While traveling, leaving behind your pet is like leaving behind a piece of your heart. Pet parents have always wished to travel with their furry buddies on vacations, tours, and trips. But keeping in mind the comfort of other passengers, the airlines never entertained this request of pet owners until recently.
Lufthansa's lounge welcomes your pets and allows you to fly with them after considering your pet's type, weight, and size and your destination country's regulations in place. The airline charges you an additional fee, and you can check-in your pet buddies as extra baggage in the aircraft's air-conditioning hold.
Here, we will learn everything about Lufthansa's pet policy (Lufthansa pet travel requirements) and how you can conveniently travel with your pets to certain destinations.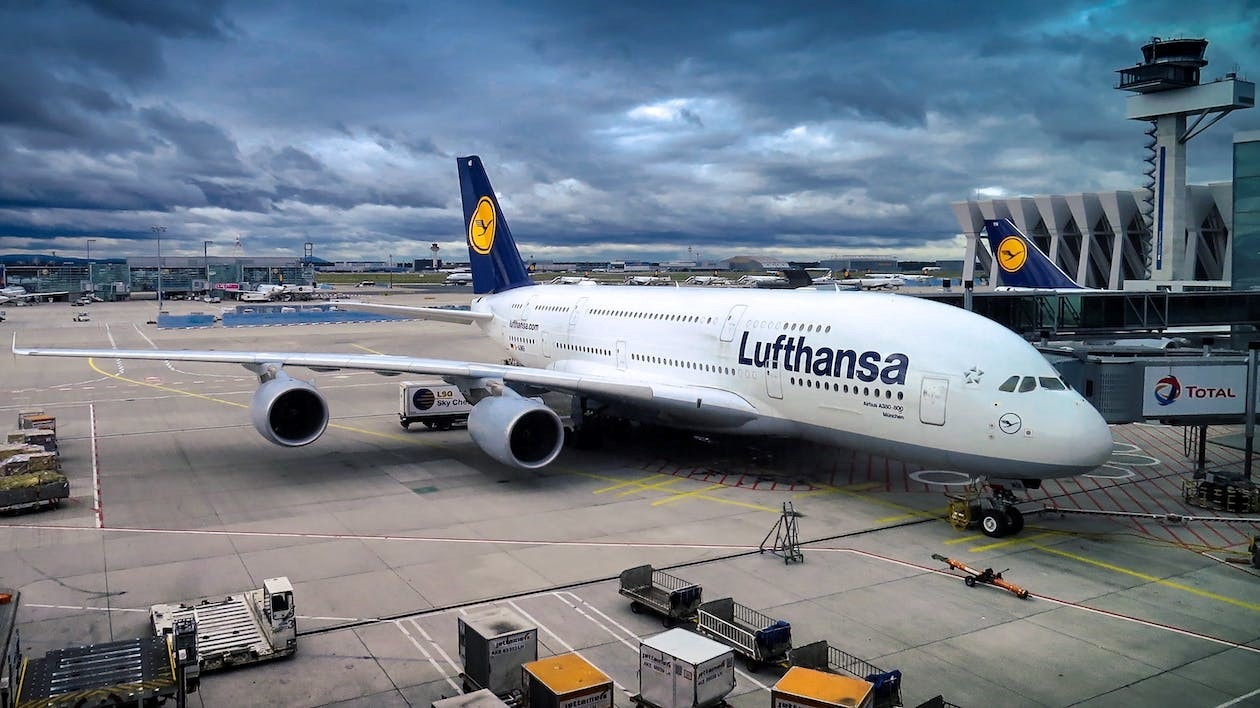 Lufthansa gives you two options to travel with your pets or transport animals from one place to another – cabin and cargo.
Traveling with Small Dogs and Cats
If you have small dogs and cats weighing less than 8 kg (including the weight of the shipping container), you can travel with them as carry-on baggage aboard under certain conditions.
Large animals are not allowed on board in the cabin because of their weight or size. Registration is required 72 hours before departure, or you can contact the service centre at least 24 hours before departure. To take your pet as carry-on baggage, you must ensure that your pet meets the weight requirement mentioned above.
You are required to fill in the cabin form. Present two copies of the signed form at the check-in desk for verification.
Traveling with Big Dogs and Cats
Pets weighing more than 8 kg, including the shipping container's weight, would be allowed to travel as excess baggage in the cargo hold of the air-conditioned aircraft.
Registration is required 72 hours before departure, or you can contact the service center at Lufthansa Cargo at least 24 hours before departure.
Traveling with Assistance Dogs
On Lufthansa flights, assistance dogs can travel for free; however, you must follow the required guidelines for bringing your dog aboard. Similarly, special rules are applicable for the travel of fighting dogs of all breeds.
Is It Possible to Travel With Snub-Nosed Pets?
Brachycephalic dogs and cats or animals with snub-nose are not permitted to travel on flights for medical reasons. Because of their small-sized noses, it becomes difficult for them to breathe, considering their narrow airways.
You can carry them in exceptional cases only after following special instructions under the Lufthansa pet policy (Lufthansa pet travel requirements).
Different rates apply for animals traveling in a cabin or cargo, depending on their size, weight, and other parameters.
Factors to Consider Before Traveling With Your Pets on Lufthansa
Get your pets accustomed to their carriers or containers a few days before you board the flight. If they are comfortably settled in their carriers, reward them with a treat.
Always consult a vet before you put your pet on a sedative before traveling. This may affect the reaction or health of your pet later.
Try calming your pet by giving them their preferred meal, comfortable bedding, or favorite toy. Take suggestions from their doctor about the kind of meals you should serve him before, during, and after the flight.
Ensure you comply with the Animal Welfare and Import and Export Regulations before booking your flight.
Always check the animal export and import regulations as stated by the departure, transit, and destination countries from the relevant consulate.
Lufthansa has the right to refuse animal bookings or impose stricter rules on certain routes; for example, when flying to India, UK, or Ireland, animals are excluded from travel as specified under the Lufthansa pet policy (Lufthansa pet travel requirements).
Lufthansa can also refuse the boarding of your pets in case of severe weather conditions.
Always carry necessary travel documents for your pet.
You can take a maximum of 2 animals.
Read the terms and conditions and adhere to the special rules that apply to the travel of assistance dogs.
The minimum age for dogs and cats who are boarding the flight should be a minimum of 12 weeks. For any Lufthansa flights to, from, or via Germany, the minimum age requirement exceeds 15 weeks.
You must adhere to the detailed information on shipping containers for pet transport.
If, under any circumstance, Lufthansa refuses the transport of your pet due to a violation of the rules, Lufthansa will not be held responsible for any resulting losses incurred, whether it is flight booking, hotel booking, transit expenses, etc., as mentioned under Lufthansa pet policy (Lufthansa pet travel requirements)
How to Book a Flight and Check-In With Your Pet
Step 1 – Book a ticket in advance. Lufthansa airlines have limited allocation for pets, so make sure you book the ticket well in advance for them as you book your flight.
Step 2 – Register and confirm your flight details with Lufthansa Airlines 24 hours before departure and 48 hours in case of assistance dogs.
Step 3 – Whether you would be taking your pet with you in the cabin or the cargo, you need to register accordingly and inform the airlines within the stipulated time.
Step 4 – Submit necessary information regarding the welfare of your pet.
Step 5 – You can do a mobile check-in for yourself and your pet 23 hours before departure. You can later collect the boarding passes from the check-in counter at the airport.
Can You Import Dogs to the USA?
You must visit the United States Center for Disease Control website to learn about the restrictions, rules and regulations, and exemptions about transporting dogs from other countries to the USA.
America has levied severe restrictions on the import of dogs because of the increased risk of rabies, so before you book a flight with your dog, you must comply with the new transport restrictions and adhere to the regulations for a CDC Dog Import Permit. This condition applies to all dogs!
What if You Are Traveling on Multiple Airline Carriers?
The above-mentioned guidelines are only about Lufthansa's pet policy (Lufthansa pet travel requirements) and not a general code of conduct for other airline carriers. So, if you have connecting flights with other airlines for return, you must consider their pet policy and requirements before you travel.
The Lufthansa Lounge Welcomes Your Pets!
Your fur friends are more than welcome to the Lufthansa lounges. You simply need to follow a few rules and ensure that the other passengers are not disturbed by their presence. Your pets won't be allowed to move freely in Lufthansa's lounges; however, you have the leverage to take them from one country to another in the transport box or pet carriers.