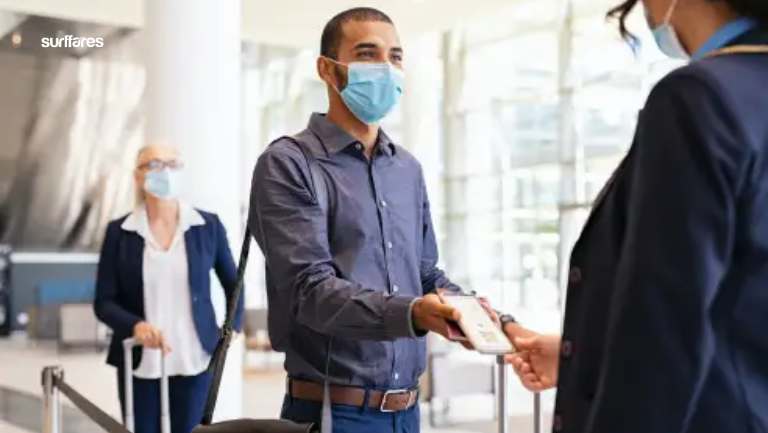 Traveling to India is quite adventurous and unique. And why not so? India is the biggest democracy with numerous places to visit. It has everything from the breathtaking Himalayas in the north to the serene waters of Kerala in the south and so on. There are some rules and regulations that you have to follow while traveling in India. In this blog, you will know about Must Follow Rules While Travelling To India. So let's start!
List Of The Must-Follow Rules While Travelling To India
 There are laws made by the authority of the Indian airports. It is mandatory and people need to follow these rules.
1. Basic Documents For Travelling
As a first-time visitor to India, individuals need to collect basic things. These are very essential for travel. The airport agency asks foreigners to have the basic documents that ensure their identity. This includes the below-mentioned documents that you have to carry.
ID or Identity Card – This is the first and most vital document that you should have. This includes the basic documentation about air travel and passport for the foreigner.
Tickets – A hard or soft copy of the ticket based on Airline policy
Boarding Pass – It should be printed. if available then you can print on the Check-in counters at the Self Kiosk counters at the Airport.
Mobile phone – All travel-related apps should be installed.
2. Know Your Luggage
Luggage is an important necessity of an individual. Pack light to make your trip enjoyable. If you want to bring more stuff, find out from your airline company that you book. Clear all queries related to how much baggage weight is allowed before your trip. Every airline has its own rules for luggage. Make sure to visit the airline's website or contact them to know the baggage rules. So that you don't face problems during check-in at the airport. Also, remember not to pack any items that are not allowed. In case you pack them, they will be taken away by the airport authorities. Moreover, make sure to have your documents in the right place. Do not put it deeply. As they needed at every check.
3. Get To The Airport On Time – It is crucial to reach the airport on time
Many Airlines suggest arriving 2 or 3 hours before your flight. Confirm with the Airlines about their rules.
So, make sure you get to the Airport at least 2 or 3 hours before your flight's scheduled departure. This gives you enough time to check in, get your boarding pass, drop off your luggage, go through security, and be at your gate on time for your flight. Also, make sure that you have booked the vehicle if you are a  foreigner or a local park the vehicle at the right spot.
4. Security Checks
After completing the check-in, you have to go through the security check. They will check the below-mentioned things.
Put your hand baggage through the screening process.
Use the provided tray for items like cell phones, laptops, and electronics.
Metal objects such as belts and bracelets should also be placed in trays to avoid setting off alarms.
Remember the 3-3-3 rule for liquids when you're at the Airport.
After your luggage goes through the screening, you'll need to have a personal check at the booths provided.
5. Check-in On Time At The Airport
It is mandatory to reach the airport on time. On reaching the airport, show your identity first. The staff at the counter will review your necessary documents to confirm who you are. Once they confirm your identity, they'll give you a boarding pass. This pass will include all your travel info. Such as your flight number, seat number, and when your flight is supposed to leave.
6. Immigration And Customs
When you're taking an international flight, there are a few things to keep in mind. You'll go through Customs and Immigration checks. Make sure you have your important travel papers like your Passport and VISA. If the officials ask, explain why you're traveling. Don't bring anything illegal with you – that's really important. Also, take a look at the airline's website to see what you can and can't bring on the plane. Along with this, some places you visit might want you to have their local money. Hence, check their rules and get ready ahead of time.
7. Wait In The Waiting Area Or Lounge
No matter what kind of flight you're taking, you'll need to wait in the waiting area until it's time to get on the plane. There are special places called lounges where you can chill before your flight. At IGI Airport, they have really nice lounges for folks with a Private Pilot License or PPL. Moreover, you can check out all the cool things the airport has to offer while waiting for the flight. IGI Airport has lots of shops, places to eat, and more to keep you busy. You can do some shopping, enjoy some good food, or just relax at Delhi International Airport.
8. Departure
When you get to the last gate, hang out in the boarding area until it's time to get on the plane. You'll step onto the plane after they've checked your boarding pass one last time. Lastly, find your seat, buckle up, and pay close attention to the instructions.
In A Nutshell,
Airport rules are simple and straightforward. The Indian Airport authorities requested first-time travelers and every foreigner to strictly follow these laws. So, this is all about the Must Follow Rules While Travelling To India. Happy journey and stay connected!
Also, Read – Tricks To Book Cheap Flights To India