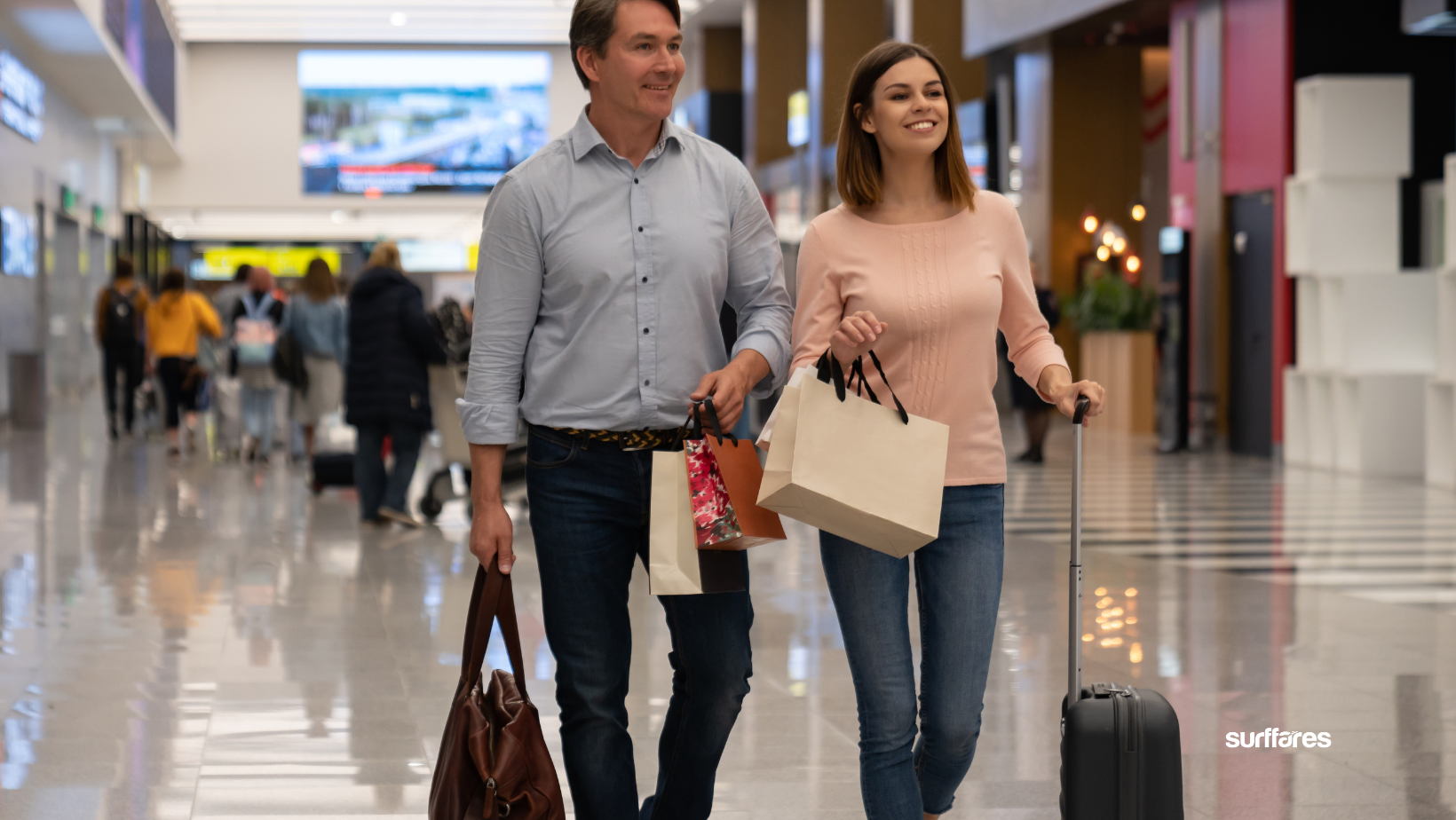 If you're a first-time international traveler, you might find the concept of duty-free shopping to be overwhelming. Duty-free shops enable the purchase of exclusive items only available when crossing national borders or boarding international flights. Duty-free shops are located in multiple locations such as airports, ports, border towns, and even onboard international flights.
We have everything you need for a thorough introduction to duty-free shops at airports. With the help of our comprehensive guide, you may shop duty-free at airports with confidence and save big on your next international vacation.
What is Duty-Free at the Airport?
If you've ever traveled internationally or passed through a terminal, you've most likely come across a duty-free shop. These shops sell various products exempt from the local import taxes or fees imposed by government authorities, known as "duty."
Duty-free shopping at airports is an excellent way for travelers to save money on various products, including tobacco, cosmetics, alcoholic beverages, luxury items, perfumes, chocolates, and much more. The cashier at the counter often asks travelers for their boarding pass to verify whether they are eligible for duty-free shopping at airports. Travelers must present their boarding pass as evidence of their international trip at least 48 hours before departing the United States to be eligible for duty-free shopping.
Top Duty-Free Shopping Destinations
Each duty-free shop at an airport will have different products and brands.  While duty-free alcohol, cigarettes, and candy may be the same, the variety of brands in cosmetics, fragrances, watches, and other luxury goods may differ.
Some of the most well-known duty-free chains include DFS (Abu Dhabi Duty Free), Dufry, Sunrise Duty Free, Saudi Duty Free, Duty Free Americas, Sky Connection Limited, The Nuance Group, EGYPTAIR Duty Free (EADFS), Lotte Duty Free, Duty Free Americas, Japan Airport Terminal Co., Flemingo International, World Duty Free Group, and so on.
Determining which duty-free shop is better than another is dependent on multiple factors, such as the travelers' interests, the country they're traveling to, their current location, nationality, and the products they want to purchase. Buying from duty-free stores that value the US dollar can be an excellent way for people traveling outside the US to save money.
Most duty-free stores in airports in Europe are exempt from value-added tax (VAT), implying that the items are not levied any taxes and can result in savings of up to 25%. Nonetheless, savings may vary from nation to nation.
Duty-free shops in bigger airports are known to be more extensive, and travelers flying through different terminals should compare costs for the products they wish to buy ahead of time to make informed buying decisions. Many airport duty-free shops have websites offering product information, making it easier for travelers to pre-order goods if they're on a tight schedule while traveling.
Tips for Making the Most of Your Duty-Free Shopping Experience
Duty-free shopping at airports can save you money on some products, but it's important to remember that it isn't always the best deal. It would be best to use the internet and a currency converter to compare prices in your location before purchasing.
You'll always get good alcohol deals at duty-free airport shops in the Caribbean, tobacco in Asia, and luxury products in Europe.
If you have a connecting flight back to the US, you can carry up to 3.4 ounces of liquor in your carry-on bag, provided you have the receipt and it's sealed in a tamper-proof plastic bag.
Use the right credit card while making a purchase. Make sure that you're paying in the local currency.
If you're at a large airport, compare prices in different terminals, as you may find prices different at every store.
Popular Duty-Free Items to Purchase
The best deals while shopping from duty-free stores at airports are liquor and tobacco products, which are heavily taxed. However, this doesn't necessarily imply that liquor prices at your local grocery store will be higher than duty-free airport stores.
The savings come into play when buying large quantities of alcohol or tobacco and avoiding country-specific taxes. For instance, California imposes a 6% liquor tax, so buying $100 worth of wine would incur a $6 surcharge. However, purchasing that $100 wine at the LAX duty-free shop before your flight could save you $6.
You can also get better deals based on where you travel and your current location. For example, when traveling to the US from the maximum number of countries, you can claim a tax exemption of up to $800 on different products. This means you can buy alcohol at a French duty-free shop and avoid paying tax on it in the US or France, given that your purchases are below $800.
You are not required to pay taxes on the first $1,600 worth of island items you bring back from the US Virgin Islands to the United States. US Customs and Border Protection has got you covered – as long as you play by the rules. You can grab up to 5 liters of your favorite wine or liquor without paying duties; however, at least 4 of those liters must be purchased in an insular possession, and one bottle must be sourced from that same place. Insular possessions on the list include gems like Johnston Atoll, US Virgin Islands, Wake Island, Guam, Midway Islands, and American Samoa.
Duty-free shopping can help you save money, but comparing prices at different terminals and local shops before purchasing is essential. However, it's better to purchase souvenirs from a local shop as they are more expensive at duty-free airport shops.
Bringing Duty-Free Purchases on the Plane
There are a few considerations when bringing certain products on the plane. It's always a good idea to double-check with your airline, but typically, most of them allow carrying chocolate, cosmetics, and fragrances.
If you buy alcohol in a duty-free store, you can typically bring it on the airline with you. However, you may need to carry it in your checked luggage if you have connecting flights and must undergo a security screening. This can be frustrating when you have a layover and need access to your checked baggage.
It's important to remember that the Transportation Security Administration 3-1-1 carry-on regulation states that anything greater than 3.4 ounces must be kept in checked baggage. This can be unpleasant, especially if you've already bought duty-free wine. It's a good idea to purchase duty-free alcohol at the last airport before you reach your final destination to prevent losing your purchase at a security checkpoint.
Put simply, look into airfares and set aside cash for duty-free purchases to make the most of your travel budget.
Wrapping Up
Some airports are worth considering if you're a savvy shopper trying to save on duty-free items. Research has shown that specific locations offer the best duty-free prices rather than a single airport.
For instance, the Caribbean and a few European airports have some of the most affordable pricing for alcohol. While Asia is your best bet for inexpensive tobacco products, duty-free cosmetics and fragrances are available in significant quantities in London, Madrid, and Dubai.
To conclude, if you're willing to do some digging and research the price differences, you might find the best deals on duty-free products during your travels.