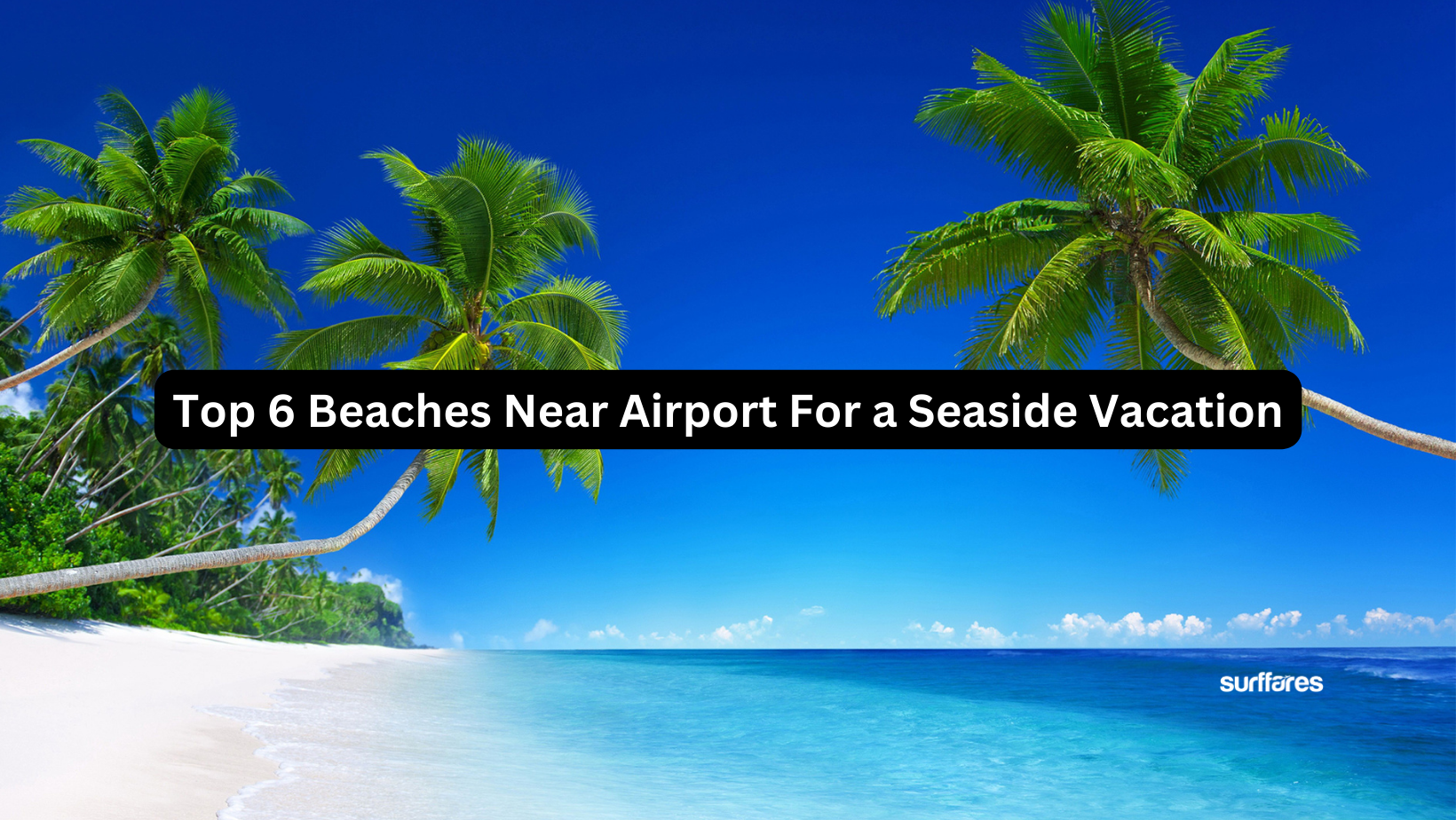 Finding a beach that is conveniently situated close to an airport might make your trip more pleasurable if you are considering a seaside holiday. Fortunately, some major airports are close to several breathtaking beaches across the globe. These beaches near the airport give an ideal opportunity to soak up the sun, enjoy the sand and surf, and relax in a breathtaking natural setting to frequent travelers and NRIs.
We'll go deeper into what makes the following 6 beaches near airports more unique. So grab your sunscreen and get ready to explore some of the most stunning beaches!
6 Beaches Near Airports
From the Caribbean's crystal-clear water to Australia's rough coastline, there are numerous stunning beaches near airports. We'll look at some of the best beaches near airports that are ideal for a seaside getaway.
Hollywood Beach near Fort Lauderdale-Hollywood International, Florida
Hollywood Beach is just south of Fort Lauderdale in the Floridan city of Hollywood. You can get here by shuttle, bus, or taxi, as it is 7.7 miles from the airport. It's a well-known tourist beach famous for swimming, tanning, and water activities like paddleboarding, kayaking, and surfing.
Along with many other attractions, the promenade includes Charnow Park's children's water playground, Hollywood Beach Theatre, and public art stores. The Hollywood Sun Shuttle is available to transport you across the barrier island as well as to and from the Beach to Downtown Hollywood. Each person must pay $1 for each trip on this on-demand shuttle service.
The boardwalk in Hollywood Beach spans 2.5 miles along the beachfront. It is lined with eateries, cafes, and retail establishments. There are various alternatives to hotels on this beach near the airport. These include five-star hotels and inexpensive motels for tourists and NRIs (Non-Resident Indians). Additionally, it also has dining options that offer different types of cuisines, which are affordable and expensive.
Montrose Beach near Chicago O'Hare International Airport
Montrose Beach is the gorgeous lakefront beach near Chicago O'Hare International Airport. It is present on the North Side of Chicago. It has stunning views of Lake Michigan and the Chicago cityscape. You can also take public transport from the CTA red line's Lawrence or Wilson stops to get to this beach. You can board the 81 Lawrence, 151 Sheridan, or 78 Montrose bus lines.
Once you arrive, you may easily fill your day with amenities. Don't forget to enjoy food and drinks from The Dock, Boucher Brothers, Morelos Concession, Noel's Tacos, and JI Concession. Boucher Brothers provide umbrellas and beach chairs on rent to tourists. For instance, the beach is dog-friendly. So, pet owners can bring their companions for a day out at this beach. The Montrose Point Bird Sanctuary is also close to the shore, and visitors may see a variety of bird species here.
Clearwater Beach near Tampa International Airport
When you compare Clearwater, Florida, to other adjacent beach towns, you will find it to be more affordable. It is 21 miles away from Tampa International Airport. Throughout the day, dolphin and sightseeing ships leave port. Children will enjoy watching the dolphins, sea turtles, and other rescued marine animals at Clearwater Marine Aquarium. Don't miss Memo's Pirate Cruise, an action-packed family voyage on a pirate ship replica. Adults can enjoy a cocktail or supper cruise as the sun sets.
Paddleboard, parasailing, and kayak rentals are also available. Clearwater Beach, near the airport, is also home to restaurants, eateries, and cafes to get all types of food. Visitors may try different cuisine, fresh seafood, and non-veg cuisines while admiring the breathtaking vistas of the Gulf of Mexico.
Coronado Beach Near San Diego International Airport
Coronado Beach is one of the best swimming spots in Coronado, stretching from the renowned Hotel del Coronado to Sunset Park in the north. There is a tendency for this kid-friendly beach to get busy. However, there is enough room to choose a great location to enter the water for a swim. The historic Hotel del Coronado is one of Coronado Beach's primary attractions.
The beach, sidewalks, park areas, and nearby parking lots are all alcohol-free zones. Fishing is also legal here. Moreover, the Coronado Recreation Department provides a permit for any gathering of more than 25 individuals. Additionally, a permit is necessary for events involving water, athletic competitions, etc.
You can also call the Lifeguard Beach Information Line at 619-522-7346 for surf information if you intend to scuba dive. Swimming and surfing zones are set up on the main beaches for tourists. Please be aware that this is a zero-alcohol zone, and you can't spend the night camping here.
Miami Beach Near Miami International Airport
This beach is located 12 miles away from Miami International Airport. With its skyscraper-dotted cityscape, Miami offers a good variety of things to see and do. It has many adventure activities for children and couples, some of which are free to explore and enjoy. The Miami Riverwalk is a terrific way to tune into the city's lively foot flow. Little Havana is one of Miami's most distinctive cultural neighborhoods.
Greater Miami beach, near the airport, is home to a plethora of attractions, from the breathtaking natural wonders of Biscayne National Park to the picture-perfect buildings of South Beach's Art Deco Historic District. Additionally, the nearby Lincoln Road Mall offers a wide variety of clothing, jewelry, and bookstores for those who enjoy shopping.
Waikiki Beach Near Honolulu International Airport
Waikiki Beach is one of the best beaches near an airport in Hawaii. It is a popular destination that provides visitors with stunning views of the city and the seashore. The biggest attractions here are hula competitions and outrigger canoe races. Diamond Head State Monument is situated near this beach for those looking to visit. The beach also offers a variety of recreational and adventure activities like surfing, snorkeling, and paddleboarding.
Waikiki contributes over 42% of visitor revenue in Hawaii, owing to the numerous services, businesses, and lodging options. So, if you are an adventure enthusiast, you must visit this beach. It also has the historical hotspot of Pearl Harbour, which is a must-see for history buffs.
Wrapping Up
That's all you need to know about the best beaches near airports in the world. We hope you found this blog useful. So, don't forget to visit these beaches once you plan the trip to your favorite destination. Add them to your bucket list today!