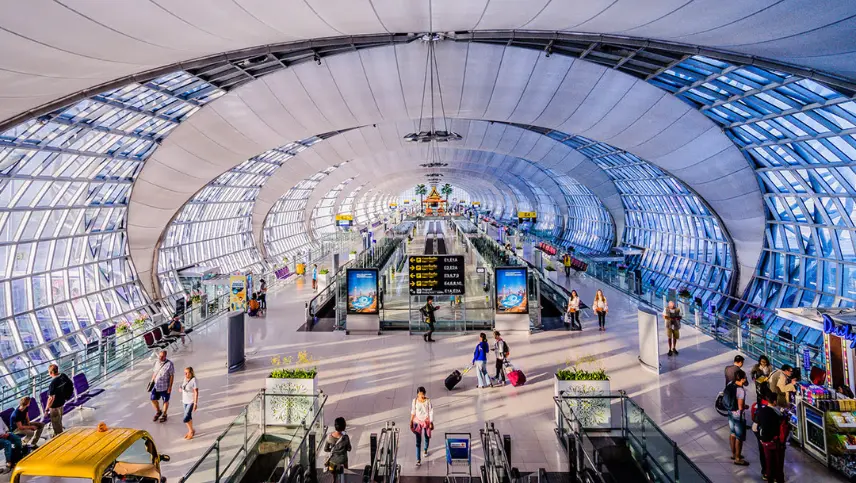 Air travel attracts every kind of individual to make journeys by using its charm and magic. No doubt it is the most expensive international and national destination. Moreover, it is more safe, more comfortable, and the fastest way to complete the expedition. So, it becomes important when choosing the right flight, booking a ticket, check-in and others for a seamless journey. Apart from these, the airport's services and facilities matter a lot. This blog will provide comprehensive details about the Top Five Biggest And Busiest Airports In India.
List Of The Top Biggest And Busiest Airports In India
India is a country with diversity. Also is it the fastest-growing economy in the world in this modern era. The nation has various national and international airports. These airports are located in different states and provide the best outcomes. Also, these airports are the biggest and busiest airports in India. So let's check the list of these top 5 airports.
Indira Gandhi International Airport, New Delhi
Indira Gandhi International Airport stands at the top of this list. The airport is located at the heart of the capital of India and it is the biggest airport in the nation too. The airport receives a lot of traffic from in and out of India. Its sprawling terminals, state-of-the-art facilities, and world-class services have earned it a place among the world's best airports. Handling millions of passengers annually, The airport serves as a crucial link between India and the world. The airport's seamless blend of modernity and Indian aesthetics. It is a testament to the country's rich heritage.
Address –  No.367, Badam Singh Market NH-8, near Shiv Murti, Rangpuri, New Delhi, Delhi 110037
Overview – Airport Terminal 3 offers a spacious and inviting environment. Also, adorned with captivating artwork and visual elements that proudly showcase Indian culture. Passengers can relish a comfortable experience, in restaurants, cafes, food outlets, and bars. All are thoughtfully designed to enhance their convenience and enjoyment.
Chhatrapati Shivaji International Airport, Mumbai
Chhatrapati Shivaji International Airport functions as the main international aviation hub for the Mumbai metropolitan region. Positioned as India's second busiest airport regarding passenger traffic. It accommodates approximately 30 million travelers. Recognized for its excellence, the airport was honored with the title of World's Best Airport by the Airports Council International. This is for its exceptional management of over 40 million passengers on a yearly basis. Additionally, it holds a prominent position among the five largest airports in India.
Address – Mumbai, Maharashtra 400099
Overview – There is a world-famous GVK Lounge, which has won the 'World's Leading Airport Lounge-First Class 2015. Here you can get various services like a smoking zone. As well as food and beverage, a bar, a luxury spa, a shower area, and a luxurious relaxation area.
Rajiv Gandhi International Airport, Hyderabad, Telangana
Rajiv Gandhi International Airport, positioned among Top Biggest And Busiest Airport In India caters to the primary city of Telangana in the southern region of the country. This aviation hub ranks as the sixth busiest in India. It features a single-passenger terminal, a cargo terminal, and a pair of runways. The terminal efficiently manages an annual influx of 12 million passengers. As well as offering a comprehensive layout of nine gates and 96 check-in counters, complemented by 19 self-check-in kiosks.
Address –  Shamshabad, Hyderabad, Telangana 500409
Overview – Catering to individuals with special requirements. The Rajiv Gandhi Airport offers a range of services. Such as accessible ramps, elevators, buggy assistance, wheelchair support, baby strollers, and restroom facilities. For those in need of a respite, there is an on-site hotel available, along with the option to access comfortable lounges.
Kempegowda International Airport, Bengaluru, Karnataka
 Encompassing an expansive 4,000 acres of land, Kempegowda International Airport is nestled within the state of Karnataka. It houses a solitary passenger terminal that caters to both domestic and international flights. This airport possesses the capability to gracefully manage approximately 20 million passengers each year. Its distinction as one of India's most bustling aviation hubs is well-deserved.
Address – KIAL Rd, Devanahalli, Bengaluru, Karnataka 560300
Overview – Presenting an exquisitely curved roof, the airport boasts a distinctive visual identity. It has thoughtfully designed elevators and restrooms. The airport is accessible for individuals requiring special assistance. It has four lounges, providing a convenient space to recharge your device while taking a break. For business travelers, seamless productivity is enabled by the availability of high-speed Wi-Fi, facilitating work with utmost ease.
Chennai International Airport, Chennai
 The Chennai International Airport is one of the biggest and busiest airports in India. The airport is located in Chennai, Tamil Nadu. And ranked as the sixth-largest airport in India. The airport is the busiest hub of international flights. As well as daily 520 international aircraft land at this airport. Also, 30,000 passengers are regularly commuted from this
airport. Along with this, the airport is the hub of various facilities.
Address –  Airport Rd, Meenambakkam, Chennai, Tamil Nadu 600027
Overview – The airport encompasses 124 check-in counters. Also, a duty-free shopping zone, self-check-in facilities, complimentary Wi-Fi, and dedicated services for individuals with disabilities. If you're planning a journey to South India, Chennai stands as the optimal choice. It makes it an excellent destination to consider for your flight booking.
 Also Read – Neos Airlines Amritsar To Toronto -The Ultimate Guide