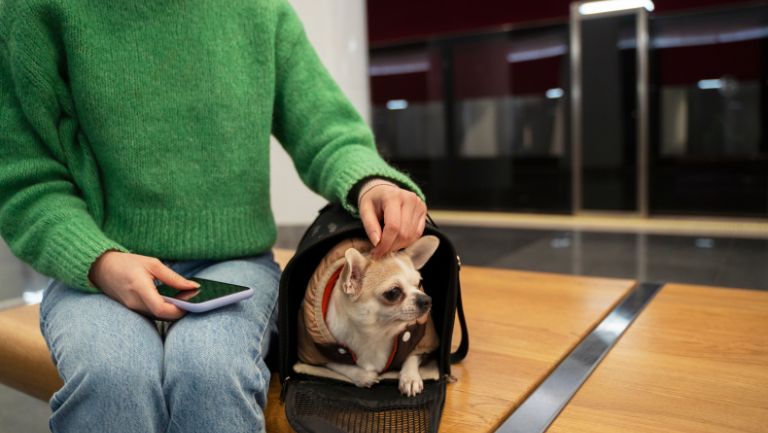 Traveling with your furry companions now becomes easy. And, you won't have to leave them behind alone in the home. In this modern time, many airlines are allowing pets to travel with their owners. As they realize the love and bond between a furry friend and their owner. So what are those airlines? This blog will delve into Which Airlines Allow Pets In Cabins? So let's start!
What Are The In-Cabin Pets?
The in-cabin pets are domesticated animals that are mostly dogs and cats. Sometimes the other small animals too. These animals are allowed by the airlines to travel with their owner in the in-cabin. These pets are required to be transported in an airline-approved pet carrier. That can fit underneath the seat in front of the owner. This concept helps both the pet owner as well as the pet to have a safe and comfortable journey.
Every airline has its own pet policy which describes the rules and regulations related to pet travel. It also provides insight into the weight and size dimensions of the animal carrier. Moreover, the fees that you have to pay, and so on. So it is essential to know about these. 
 List Of The Airlines That Allow Pets In Cabins
Air Canada Pet Policy
For those journeying northward, Air Canada presents a welcoming policy for cabin pets. Travelers have the opportunity to bring along their small cats and dogs on flights within Canada. As well as to specific international locations. It's advisable to become acquainted with their set of guidelines and regulations. This is all to ensure a travel experience that's free of stress.
Air Canada Pet Carrier Measurements
Maximum Weight –  22 pounds
Maximum Carrier Size – Soft-sided crate – 27 x 40 x 55 cm
Hard-sided crate – 23 x 40 x 55 cm
Cost – $50-59 CAD within Canada and USA, $100-118 CAD international
Air Canada allows pets and dogs to travel on its airline but you can take only one. Your dog, when in its carrier, will be considered as one regular item within your carry-on baggage allowance. You won't be able to carry a dog along with you if you are a minor and unaccompanied. As well as you are traveling in the premium class.
Alaska Air Pet Policy
Alaska Airlines collaborates with Banfield Pet Hospital. And offering a pet transportation discount. Following the Alaska Airlines pet policy, you're allowed to have one pet travel to or from Hawaii. However, keep in mind that Hawaii is a rabies-free state. So there might be additional regulations and guidelines for pet transportation.
Alaska Airlines Pet Carrier Measurements
Maximum Weight –  9kgs or 20  pounds
Maximum Carrier Size – Soft-sided crate – 43 x 28 x 24 cm
Hard-sided crate – 43 x 28 x 19
Cost – 100 USD
To travel to Alaska Airlines your pet should be at the eight-week olds. Small dogs and cats are allowed to travel in the cabin to Mexico and Hawaii, but transporting birds into Hawaii is not permitted. Passengers have the option to travel with two dogs in the main cabin. It is provided they purchase an adjacent seat. It's allowed for two dogs to share the same carrier during the flight.
United Airlines Pet Policy
United Airlines permits passengers to inform them about traveling with their pets in advance. So they can reserve a seat for them. According to the pet policy of United Airlines, only small cats, rabbits, dogs, and household birds are allowed to travel in the cabin. Furthermore, this accommodation is available for travel within the continental United States, excluding Hawaii.
United Airlines Pet Carrier Measurements
Maximum Weight –  No limit, however, must fit comfortably in a carrier under the seat
Maximum Carrier Size – Soft-sided crate – 46 x 28 x 28 cm
Hard-sided crate – 44 x 30 x 19 cm
Cost – 125 USD
The United Airlines prohibited dogs from Australia, Micronesia, or Hawaii. Additionally, dogs cannot be accompanied by minors. Also, commuters can buy additional tickets for carry-on bags. The airline has strict regulations for pet carriers, ventilation, and size. So make sure to familiarize yourself with their guidelines before your flight. For more information check United Airline Pet Policy
Delta Pet Policy
Spanning across 60 countries worldwide, Delta Airlines provides extensive travel coverage. Whenever you choose Delta, your pets can share in the journey. Domestic flights even permit household birds. While small pets are welcome to travel alongside their owners, larger companions such as dogs must travel via cargo for their utmost comfort and safety. Hence, the airline became one of the Airlines That Allow Pets In Cabins.
Delta Pet Carrier Measurements
Maximum Weight –  No limit described by the airline company
Maximum Carrier Size – not described specifically, depends on flight type
Cost – 125 USD for North America, 200 USD for international people, and USD75 for Brazil
Ensure the kennel is both well-ventilated and leak-proof. Your dog must stay inside the kennel while you're in a Delta boarding area. As well as during the flight, or within a Delta airline lounge.
JetBlue Pet Policy
JetBlue's Airline JetPaws program is tailor-made for pet-loving travelers. And according to this, as long as your little buddy fits the size and weight bill. You're in for a smooth ride together. Jet Blue makes clear that you have the documents related to the pet vaccinations and travel. And all the things that your pet needs. Like his chew bees and a toy that has your scent. Thus, the airline also stands as Airlines Allow Pets In Cabins.
JetBlue Pet Carrier Measurements
Maximum Weight – 9 kg / 20 pounds including carrier
Maximum Carrier Size – 17″L x 12.5″W x 8.5″H
Cost – 125 USD for everyone
Southwest Pet Policy
On Southwest Airlines, you can bring dogs and cats on board in the cabin. Just make sure they're vaccinated. Remember, international flights don't allow pets in the cabin. When it comes to checking in your pets, head to the airport ticket counter. For your convenience, online check-in is available for humans. And of course, your furry friend should be on their best behavior.
Southwest Pet Carrier Measurements
Maximum Weight –  No limit
Maximum Carrier Size – 43 x 34 x 21 cm
Cost – 95 USD
Passengers have the green light to travel with one dog carrier per person. Within each carrier, a maximum of two small dogs of the same species are permitted. You can count the carrier as either your carry-on bag or personal item.
Lufthansa Airlines Pet Policy
Lufthansa states that travelers are permitted to bring up to two animals onboard per passenger. Prior to boarding your flight, it's essential to complete the required form. When flying with Lufthansa, dogs must exhibit obedience to your commands. As well as display appropriate behavior in public spaces. It's crucial to note that your pet's behavior disrupts the flight. So keep in mind that if it affects the staff or inconveniences, fellow passengers. Then there might be an additional fee to relocate them to the cargo hold.
Lufthansa Airlines Pet Carrier Measurements
Maximum Weight – 8 kg or 17.6 pounds. Also include the carrier
Maximum Carrier Size – 55 x 40 x 23 cm
Cost –  50 Eur for native, 60 for international within Europe, and 115 for international outside Europe.
In A Nutshell,
Hence, you see that before boarding the flight it is vital to check the flight pet policy. So, you will clear your doubts and be able to take the pet along with you. In the end, this is all about Which Airlines Allow Pets In Cabins. Stay connected and keep upgraded.