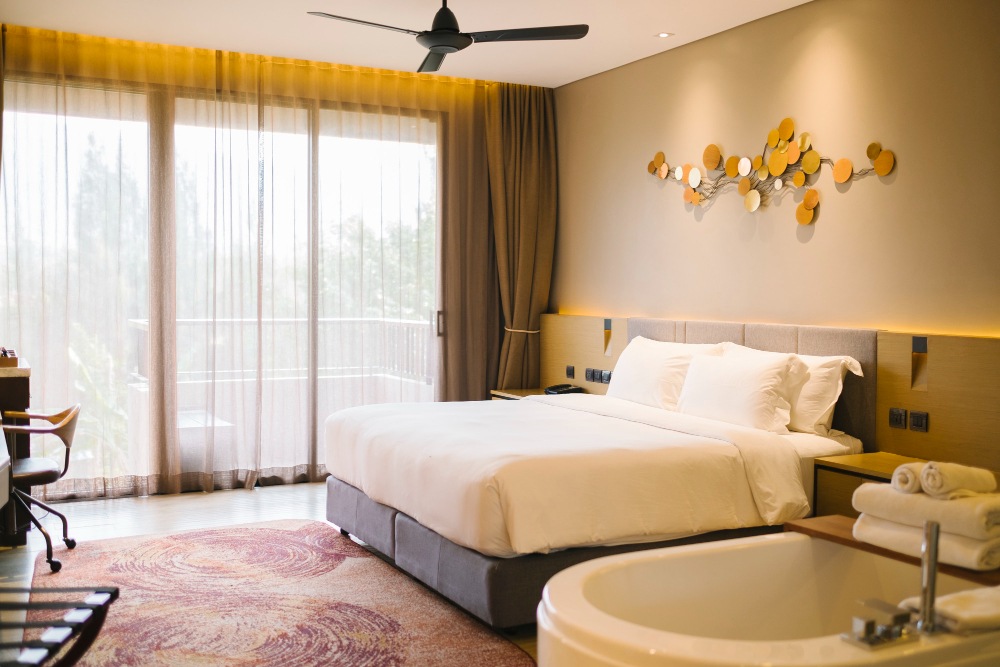 Assorted and captivating, India offers a majestic travel experience through its cultural diversity, topography, and landscape multifariousness.
When traveling here from an international country, you ought to set your first footsteps in the capital region. And you won't be disappointed. In fact, you are about to experience the thrill of your life.
New Delhi offers plenty to explore, cherish and take back home. But to witness all of that, you need an apt accommodation so that your holiday does not become a burden.
While you can roam around and get some brilliant hotels in every corner of the city, it is wiser to book one near the airport for better convenience.
Here is our take on some of the best hotels to stay near Indira Gandhi International Airport, Delhi.
1. JW Marriott Aerocity
Following its legacy of providing luxury at nothing to spare, JW Marriott is a premium recommendation for travelers. The 5-star setting is located in Aerocity which is a hospitality suburb of New Delhi. Only 2 miles away from the terminals, the hotel is well connected by metro.
As a guest, you get to enjoy luxurious rooms that are soundproofed. You also get 2 ways airport transfer included in tariff plans. The food is of world-class level thanks to the international restaurant along with a bakery and an outdoor patio lounge.
Some other features include a business meetings room, supportive staff, a luxury spa, a unisex salon, free valet parking and a fitness center. You also get to enjoy the outdoor pool that is heated in winter. A separate children's pool is also offered for the little ones.
2. Holiday Inn, New Delhi
If you are looking for an affordable luxury hotel, then Holiday Inn ticks all the right boxes. The premium hotel boasts state-of-the-art architecture along with efficient services. You get to enjoy compact yet well-furnished rooms along with a dedicated 8000 square feet meeting area that can be availed for large meetings.
The main feature of this hotel is that it is just steps away from level 5 of terminal T3. It is an ideal choice for layover flights due to its proximity to the airport.
Holiday Inn features a multi-cuisine restaurant along with a bar. There is a coffee shop as well where kids get to eat free of cost. The hotel also has a featured spa that provides optimum quality treatments to kill travel fatigue.
3. Taurus Sarovar Portico Hotel
This is another good option in the medium range. Located in Mahipalpur near Delhi Airport, around 3 km from the airport, the hotel serves well for families as well as business professionals.
With 6 categories of rooms and 2 dining options, you get to experience a joyful stay here. One can also accomplish more by exploring the banqueting facilities here.
The main highlight of the hotel is its strategic location which is perfectly suited to business professionals. All main streets and markets can be accessed from this setting.
The rooms are spacious and the flooring is wooden which adds to the charm of the interiors. Some other facilities include an on-call doctor, airport shuttle service, a convention center, Wi-Fi, and private parking.
4. Novotel Hotel
Located in the aerocity, Novotel is synonymous with lavishness. The modern hotel is perfect for NRIs and foreigners. The colossal property is just 2 miles east of the airport.
After praising the gigantic infrastructure and lawns, you get to enjoy the outdoor roof pool, fitness center, and in-room massages. The rooms are huge and boast all modern amenities.
While there is no dedicated spa feature, guests can indulge in the one located in the adjoining Pullman hotel. A dedicated business center is on offer that comes with meeting rooms and supporting staff.
As far as dining is concerned, you won't be disappointed. The main restaurant offers good buffets and delicacies through an ala carte menu. You can also relish moments in the bar. Outdoor seating is also available.
5. Andaz Aerocity Hotel
If you consider nothing less than 5 stars while finding the ideal accommodation, Andaz will have you satisfied all through your stay. The 5-star property is the epitome of luxury and convenience.
The colossal infrastructure is as beautiful on the inside as it is outside. The rooms are the most spacious you will get in the region. The large windows allow for stunning views of the city. Also, this is the only pet-friendly hotel in the category.
When booking. you can choose from rooms, suites, townhouses, or even fully furnished apartments for your stay here. Every room comes with a minibar area and soundproofed spaces.
Some of the many amenities include valet parking, airport transfers on request, a business center, swimming pools, outdoor lounges, and handsome gardens.
A decent-sized fitness goes well along the outdoor pool deck area. For eating, you can choose from 3 restaurants here. You can enjoy fine cuisine either at the European, Cantonese, or Flatbreads restaurant.
Many services are available all day long such as front desk, gym, room service, restaurant, and concierge.
6. IBIS Hotel
Located just 2 miles from the airport, IBIS is a genuinely priced moderate stay hotel. Book this if you don't want to spend most of your time in your room.
The main features include extended buffet breakfast (till noon), complimentary water, free parking, and a fitness center.
You also get to enjoy pool waters outdoor on the property. Many other services such as front desk, room service, and Wi-Fi are available 24/7.
The hotel is located on the main road and hence offers great connectivity to the metro and other parts of the city.
Conclusion
We hope you enjoyed reading the list of best hotels near IGIA as much as we enjoyed crafting it for you. With these shortlisted hotels on your bucket list, you can make your stay memorable. A comfortable stay always leads to an incredible exploration.
Few hand picked articles for you
Best accommodation hotels for NRIs in India
Look For These Heritage Hotels When Visiting India
Top pet-friendly hotels in India
Why and How Online-Check in Saves you a lot of Time and Energy