Canada is known for its picturesque rocky mountains, serene and stunning lakes, quality of life, and airports. With more than 500 airports across the country, we bring you a list of the best airports in Canada. But why are we talking about airports, you may wonder.
The point is that airports have the power to determine our overall traveling experience. An airport that soothes travelers' nerves with a good coffee and good amenities is often deemed a great place.
Not just traveling, airports also become shopping centers, sources of entertainment, and a food courts for travelers. So let's begin with our list of top five airports in Canada.
Vancouver International Airport (YVR)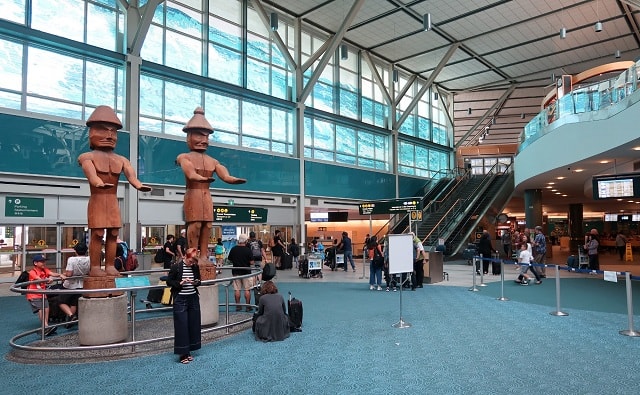 With unmatched facilities, world-class decor, and extremely easy-to-navigate corridors, the Vancouver International Airport has it all. But not just in Canada, the YVR happens to be among the best airports in the world, and the major credit for it goes to what lies outside the airport.
Take a look outside through the glass walls and the scenic beauty of this British Columbian airport will leave you spellbound.
Boasting the Northwest Coastal Aboriginal Art, you'll find really beautiful totem poles at Vancouver International Airport. YVR welcomes flights from North America, Europe, Asia, Oceania, and the Carribean countries.
But that's not all, for Vancouver International Airport also houses a massive, 114,000-liter tank that houses more than 850 species of British Columbian marine life, apt;y named YVR Aquarium.
The Canadian spirit will welcome you at the airport with 6 Tim Hortons across the premises. You can also dig into delectable seafood dishes at Globe while admiring the high mountains outside the cold distance.
A complete guide and common queries about some of the restricted items on Air India
Toronto Pearson International Airport (YYZ)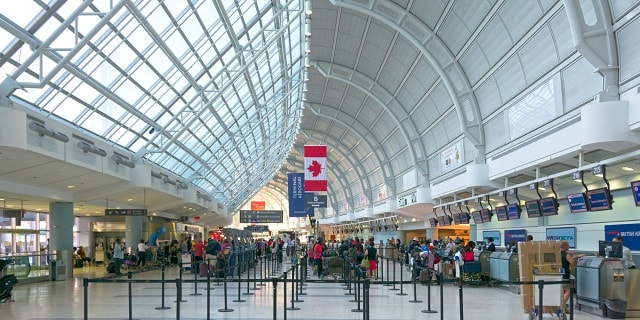 Connected with more than 180 cities all over the world, Toronto Pearson International Airport is the largest and busiest airport in Canada. Apart from the plethora of eating and shopping options, Toronto Pearson International Airport is spacious, extremely beautiful, and very well-kept.
The 24×7 skyline train and two massive dinosaur models (Allosauras & Othnielia Rex) are the two special features of YYZ.
At the same time, the Premium Plaza Lounges are an amazing place for travelers to sit back and relax, watch television or grab something from the self-serve bar. Oh, you'll also get a non-stop meal service too!
YYZ also boasts of 5 Tim Hortons, so that's a sure place to visit. That said, do try the chicken tikka masala and Thai soup at Beaches Broadwalk Cafe. Do order a mean muddled mojito to wash all the flavors down.
Know more: Very cheap flights to India from Canada
Halifax Stanfield International Airport (YHZ)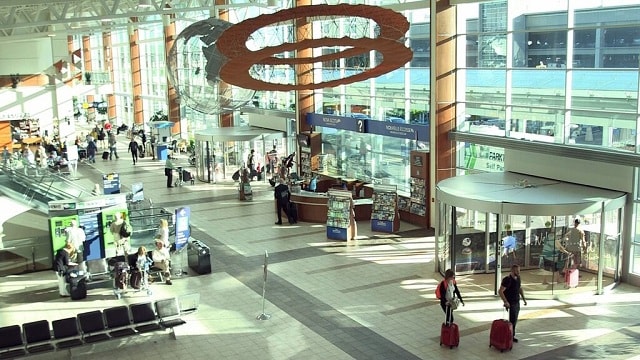 Traveling around Maritime Provinces brings you the hub, the Halifax Stanfield International Airport, about 36km from downtown of Halifax, Nova Scotia.
YHZ is frequently awarded the "Best Airport" title in various categories. YHZ has garnered immense accolades for its passenger service, helpful staff, and world-class amenities.
Seafood happens to be the best part of Halifax Stanfield Internation Airport. YHZ is connected with North America, the Carribean, and Europe.
You can also take special airport tours on specific days. This is also the time when you can watch sniffer dogs live in action. Don't forget to enjoy fresh seafood chowder with a pint of fresh, local beer.
Travelers' Guide to Book Flights to New Delhi at a Cheap Price
Calgary International Airport (YYC)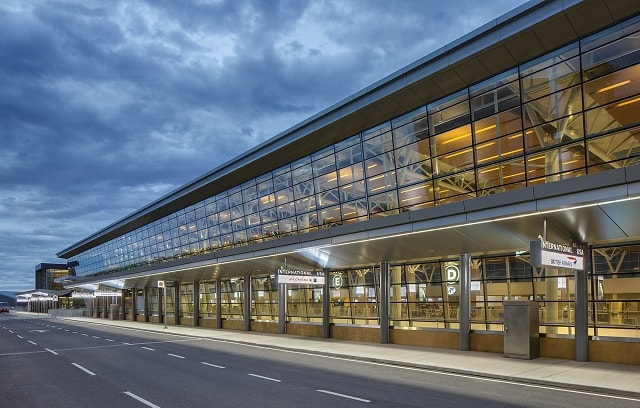 The list would've been incomplete without mentioning the Calgary International Airport. Whether it's the top 5 or the Top 10 or Top whatever, if there's a list of best airports in Canada, YYC is going to be on that list.
And rightly so, after all, this is an airport where travelers don't have to worry about their baggage. The baggage carousel gives a live update of the ETA of a travelers' baggage along with its exact location. A major winner in terms of traveling experience.
Mile-high mudpies, rotisserie grilled chicken, and smokehouse ribs are a must-try at Montana's Cook House Saloon. And since it's Canada we are talking about Calgary International Airport having 5 Tim Hortons.
Book Tickets Today from 100+ Airlines! Experience Fast, Easy & Secure Flight Booking on Surffares.
Check: Cheap Flights from USA to India
Montreal Pierre Elliott Trudeau International Airport (YUL)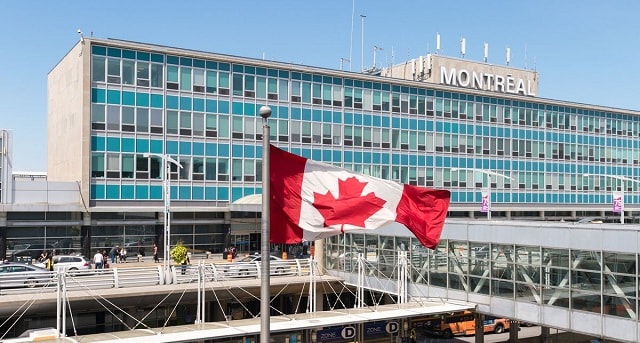 If airports were also awarded for names were as long as runways, YUL would give many other airports tough competition. The competition will be equally tough for many contenders when it comes to an airport with a myriad of food joints, restaurants, and duty-free shops.
If you are looking for a quick bite and an amazing cup of coffee, you can choose to walk into one of the many French Cafes here. And yes, there are 2 Tim Hortons too!
And not just that, you can also visit the BALNEA Spa Voyage to relax after a long flight. Here, you can indulge in rejuvenating pedicures, facials, and de-stressing massages.
So here we have the 5 best airports in Canada, but the list is far from complete. Below, we will talk about airports that surely deserve a special mention.
Know more: Flights deals to India from Canada
Victoria International Airport (YYJ)
This tiny airport is among the busiest airports in Canada, all thanks to Vancouver Island, the massively popular tourist destination among tourists and travelers from North America alike.
The airport has gone under major renovations to make room for more people and smoother flight operations.
Old fashioned burger lovers must visit the White Spot outlet at YYJ to dig into calories and taste-rich steak patties.
Cycling enthusiasts will definitely love the bicycle assembly station at the Victoria International Airport. And then, there's one Tim Horton here too.
Asia In Springs: Asia seems amazing and marvellous in the Spring
Edmonton International Airport (YEG)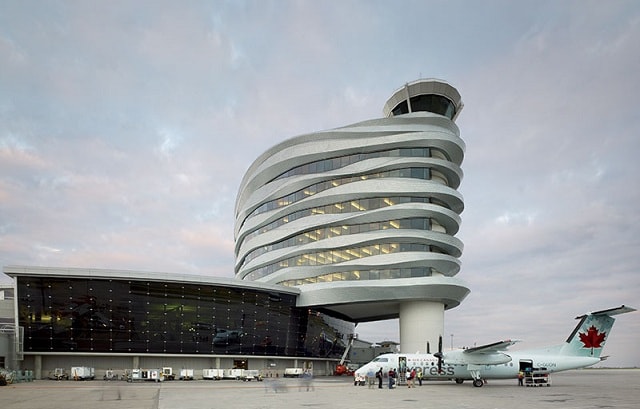 Catering non-stop flights to and from the major cities of Canada, the United States, Central America, Mexico, the Carribean, and Europe, Edmonton International Airport is the epitome of the busiest airports in the world.
YEG has two Tim Hortons. But that's not what you'll remember YEG for. It's the beautiful architecture that looks like pancakes staked on top of each other.
Airports definitely have a huge impact on our journeys. Right from walking into waiting for the flight to boarding to getting our luggage. The major part of the time is spent at the airport, when not flying.
Airport Authorities and governments have realized that airports signify the infrastructural and economic strength of a country or state. And thus, we come across airports that are nothing short of amusement.
Some of them also look like a scene from a Sci-Fi film. Which one of the above airports in Canada is your favorite?
If your favorite Canadian airport is not on the list here, feel free to mention its name in the comment section below. We'd love to mention it when we write the next series on the best airports in Canada. Bon Voyage.
Some Hand Picked Articles for you