In today's tech-driven world, there has been significant progress in ensuring a completely secure air journey. And to keep things that way, air authorities of every country and airline companies have made certain rules to ensure order and avoid chaos. The carry-on rules are also part of this approach.
Today, we shall look at the carry-on rules provided by Southwest Airlines.
Overview
Southwest Airlines is one of the major airline careers in America with headquarters in Dallas. The world's largest low-cost career covers 101 destinations.
Hence, if you chose this airline, you will not just save money, but will also benefit from its country coverage.
The Southwest carry-on size is something many people are concerned about when traveling. To find out more about this, one needs to dwell deeper into the carry-on rules and know what not to bring to Southwest airlines.
Rules for Southwest carry-on baggage
Southwest Airlines permit a single carry-on bag for each passenger. It can be in the form of any single personal item such as a purse, briefcase, or laptop bag. The baggage should not exceed the weight restrictions and size.
The airline allows only the dimensions of 50 linear inches i.e. 24 by 16 by 10 inches or 61 by 41 by 28 cm. This size includes the handle and wheels of the baggage.
Here are a few more conditions for carry-on baggage:
The passenger should store his carry-on baggage only in the storage bin overhead. It is recommended to store it with wheels facing out that help to unload the baggage easily.
If you are carrying a pet with the baggage, it will be counted as your personal item and you have to take care of it
When your baggage exceeds the weight or the dimensions, then you will have to check it at the gate. You can take the bag safely to the baggage claim at the destination airport. You can seek strollers or other assistive devices to seek out further help.
Do note that any sharp objects such as needles, syringes, etc are packed and covered so that no other passengers or employees taking care of the baggage are harmed during the flight.
Personal items in Southwest airlines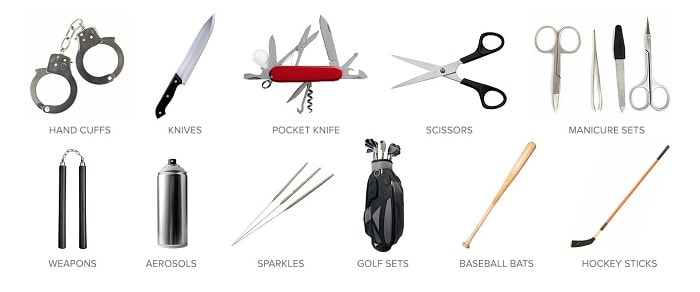 There are specific rules for personal carry-on items on the airlines. Items like food, purses, briefcases, cameras, etc are allowed.
As a passenger, you should ensure that all your personal belongings are stored under the seat in front within the dimensions given as 18.5 by 8.5 by 13.5 inches. If your personal item is not fitting in the seat under, you can place it in the overhead space.
The condition under the 'one-bag plus one personal-type item' policy does not count against the carry-on bags or personal items.
Some other items that are included are:
Child restraint device for a ticketed child
Assistive or mobility devices for people with disability
Garments or wearable articles
Food or eatables do be consumed during the flight
Umbrellas or canes for walking
Book Tickets Today from 100+ Airlines! Experience Fast, Easy & Secure Flight Booking on Surffares.
Check: Cheap Flights from USA to India
Southwest carry-on rules for onboard luggage
When you go for check-in for Southwest airlines, your shoes will be examined thoroughly. For that, you need to remove them and stand barefoot waiting for the scrutiny to get over. A good idea here is to wear flip-flops or slip-on to avoid inconvenience.
When you prepare the bag for air travel through Southwest airlines, do keep in mind the size and weight of the luggage. If that exceeds the guidelines given by the airline company, you can face delayed arrangements.
The materials in the luggage should be in withstanding position so that it does not spill. If you are carrying liquid, you should put it in the cargo bags, not carry it on bags.
Since these are essential commodities, you can carry them in carry-on luggage but with proper and original packing. Medicines in excess amounts are not at all allowed on the flight.
When you have to carry medicine, make sure that you are having a doctor's written prescription along with it. Drugs and narcotics and other addictive medications are not allowed on the flight.
Some other common items that you can carry include:
Jewelry
Money or currencies
Tickets
Eyeglasses
Medicine
Passports
Documents
Gadgets
Liquid or creamy substances, not exceeding 100ml and properly packed
Needles or syringes, with properly closed packing
Some of the strongly restricted items include:
Large containers of creams
Chemicals
Scissors
Toiletries
Flammable items
Liquid gases
Knifes
Guns or ammunition
If you are traveling with children, you can always keep games, books, or snacks as per the requirement. There are certain specific rules given by Southwest airlines when traveling with children or infants onboard. Do check the age of the child before implementing the guidelines.
A passenger should, by all means, avoid carrying a metal onboard flight. These can be easily detected. While watches and mobile phones are an exception, other metal items such as belts or a pin can be easily identified. You should keep them aside or in your luggage.
Sadly, pets are the inclusions on 'Southwest airlines what not to bring list. Dogs and cats are prohibited. You can put other pets in your carry-on baggage, with additional pet fees.
The pets you are carrying should always be fully-vaccinated and medicated before the traveling day. You should keep them in a properly enclosed kennel that can fit under the seat. It is recommended to check the entire guidelines on pet carriage on the official site of Southwest Airlines.
Final Words
We hope you did get a brief idea of how the carry-on rules for Southwest Airlines work. While it is not easy to compile everything in a single blog, we recommend you check the official website of the airline to look for questions beyond the information provided in this piece of writing.
Few hand-picked articles for you